Hey Everyone,
I used to think that Facebook Ads do not work, but was wrong (it happens from time to time)! I'll certainly say from personal experience that Facebook Ads can be quite challenging for certain verticals. However, after reading Jonathan Volk's Facebook Ads Guide, I'm convinced that there's serious money to be made in Facebook advertising and am personally empowered with some new ideas that are going to make Facebook advertising work for me. Today, I'm going to review Jonathan Volk's Facebook Ads Guide and my key takeaways. If you leave with only one message, I sincerely urge you to purchase your copy of Jonathan Volk's Facebook Ads Guide. It's only $79 (limited time discount) and you owe it to your career in search engine marketing! If you're in the corporate world of SEM (like me), you may even be able to expense this charge to your company (every company should own this guide in my opinion)!
Who Is Jonathan Volk and Why Do I Trust This Guy?
I'm going to start out with a brief introduction of my friend Jonathan Volk. Jonathan Volk is another San Francisco Bay Area marketer who has generated $3,693.21 per day for over 10 months in his personal Facebook advertising account! Aside from Facebook, Jonathan runs one of the most successful blogs on the Internet about how to make money online. I was actually honored a while back when Jonathan personally interviewed yours truly on his blog. Put simply, Jonathan is a force to be reckoned with in the world of online marketing and is the go to guy when it comes to Facebook Ads.
I Changed My Mind On Facebook Ads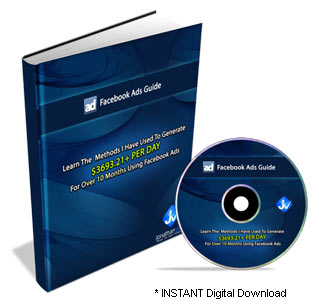 I recently presented online marketing tips to Stanford's Graduate School of Business. The presentation couldn't have gone any better! During the presentation, I remember getting questions from GSB students about Facebook Ads. I also remember telling them that Facebook doesn't work! If there's only one part of the presentation that I'd like to change, it would be my response on Facebook Ads. At the time, I think it was super advice. Now that Jonathan's guide exists, I'd like to reframe my answer: "Facebook Ads don't work… Unless you first read Jonathan Volk's guide!"
Facebook Ads are challenging because the strategies and tactics are quite different than the tried and true Google AdWords, Yahoo Search Marketing, and Microsoft adCenter ones. In fact, some of the winning strategies directly conflict with what you'd do on the major search engines! Heck, Facebook even had Jonathan Volk stumped for a while. However, he devoted himself to making it work. After investing substantial time and money in testing, Jonathan finally cracked the code.
I'm now convinced that Facebook Ads work and personally walked away from Jonathan's guide with a wealth of actionable tips. More than anything, I'm excited to know that I can benefit from Jonathan's investment and not have to invest the same time and money in finding winning Facebook Ads strategies.
My Key Takeaways From Jonathan Volk's Facebook Ads Guide
Now, I'd like to briefly highlight some of my major takeaways. Of course, I can't go into too much detail (you'll want to buy the guide to learn the secrets), but I will definitely give you a flavor of what impacted me the most.
First and foremost, I learned tremendously from Jonathan's ad copy suggestions and tactics. He breaks down Facebook Ads into two components, image and text, and goes into micro detail on how you can optimize both. I was really enlightened by Jonathan's tactical tips and walked away with some great strategies. These strategies are definitely out of the box!
Second, I'm a big fan of bidding strategy. There are two major bidding models on Facebook: CPM and CPC. Jonathan goes into the nuts and bolts of both and exposes winning strategies. I was surprised to find that some of his strategies conflict with my own best practices from Google AdWords!
Third, I really benefited from Jonathan's discussion of Facebook Ads budgets and Upper Hand Techniques. This is where Jonathan really exposes some clever ideas that will take your campaigns to the next level. These are all out of the box strategies that took Jonathan substantial time and money to discover.
As some constructive feedback, I will say that the first part of the guide was a bit too basic for me. The first section discusses the basics of affiliate marketing and how to apply for affiliate networks. I'm a pro when it comes to online marketing so I was able to skip this section. At the same time, I'll definitely say there was more than enough new stuff in this guide (most of the guide, in fact) to empower my Facebook advertising game! Moreover, I think this first section is great for those that are new to affiliate marketing.
Your SEM Career Will Fall Behind Without This Guide
To close out, I really want to highlight the fact that we're in a dynamic industry. PPC Ian is all about educating and empowering online marketing professionals. Many of you guys are in the corporate world of SEM. I'm here to say that corporate success is all about keeping your winning edge and bringing that next big idea to your company. In my opinion, Facebook Ads are the next big thing. Facebook hasn't blown up just yet (in the corporate world), so now's your chance to stay ahead of the curve. Jonathan's guide is a small $79 investment (limited time offer) that could fuel substantial gains in your online marketing career. If you're an affiliate marketer, you're going to make a ton more money. If you're in the corporate world, you're going to bring to the company strategies that will get you promoted!
Sincerely,
Ian Lopuch (PPC Ian)
PS – You may be wondering, why would Jonathan give this all away for only $79 (limited time offer)? If he has such great strategies, why wouldn't he keep them secret? My answer is simple: Jonathan wants to help people (just like my own philosophy)! Moreover, selling eBooks is a great way to diversify. Jonathan originally focused on Facebook to diversify his Google AdWords revenue streams. Now, he's diversifying even more by selling an eBook. Not a bad strategy in my opinion. It's a strategy that I respect very much and one that I envision myself taking in the future!
PPS – The guide comes with a bunch of amazing extras as well that will help you set up your Facebook Ads campaigns!
Image In This Post © JonathanVolk.com