My amazing wife, Nicole, and I work super hard. We're both in the world of digital marketing. We truly enjoy and cherish our fast-paced careers in this amazing industry. As mentioned in my 2013 goals, I'm a big believer in the power of vacations, especially for busy working professionals. It's all about longevity. You've got to take vacation from time-to-time to recharge the batteries and drive maximum results for your company.
I'm also a big believer in people. In this life, it's all about supporting your family/friends, giving back, and truly enjoying the good company of family/friends.
To that end, Nicole and I jumped at the opportunity to attend a wedding of one of my good high school friends in the Westlake Village area of Los Angeles. We ended up staying at the Four Seasons Westlake Village. We had so much fun! We got to spend some fun time with my parents, enjoyed tons of fun at the wedding, and had some time to relax and unwind at the Four Seasons. We were super impressed with the hotel and will definitely be going back there in the future.
My tip of the day: The summer is almost over. Have you taken any time off in 2013? If not, make sure to take some time. Make sure to spend time with family and friends, and make sure to recharge your batteries. I know so many people who max out their PTO and end up losing PTO hours due to heavy workload. Don't let this happen, get a little break in there and you will unlock happiness, health, and productivity/results.
Ian and Nicole at Four Seasons Westlake Village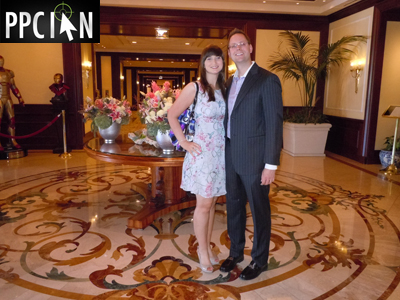 Image in this post © PPCIan.com