Happy holidays, and Merry Christmas! Today is a special day. It's a day to spend time with family, reflect, enjoy great times, and open a few presents. The last two years, I shared some of the cool digital marketing gifts I received from partners (2011 gifts, 2012 gifts). 2013 was no exception, with a multitude of generous gifts coming my way from treasured partners within the digital marketing space. Rather than share pictures of those gifts, however, I wanted to take an opportunity to share an image (and a story) of some very special gifts I gave this year…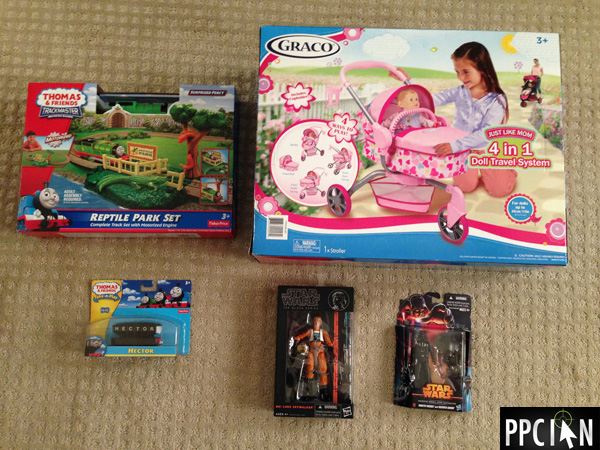 What you see above are gifts that Nicole and I donated to the Family Giving Tree. My amazing employer sponsored a huge Family Giving Tree drive and we took this opportunity to select three gift packages for in-need children. How does Family Giving Tree work? They are really amazing… They find families and individuals who cannot afford gifts this holiday season. They determine the gift wishes of those in-need and then share those gift wishes with elfs. Nicole and I decided to buy gifts for three children this holiday season. We purchased Star Wars action figures, a Thomas & Friends train set with extra train, and a doll stroller system. We had so much fun shopping for the children, and know that these gifts will bring joy to three special children today!
Overall, 2013 was a record year for us in terms of charity/donations (and was one of my major goals going into the year). Those of us in the digital marketing space are so incredibly fortunate. Take a moment to reflect and help others. Do everything you can throughout the day to help your team, co-workers, partners, and really anyone you interact with. Outside of work (or as a work/team activity), donate your time to those less fortunate. Outside of work (or again as a work/team activity) find ways to donate money and gifts. This truly is the season of giving. It's time to give back and help others in need. As an industry, we can make a truly positive impact on this world, not only through our work but through our kindness and spirit of giving!
Image of Family Giving Tree Gifts © PPCIan.com