Today, I was doing some searches on Bing and noticed something really unique. The first result in the organic results for the keyword auto insurance is something called Editors' Picks (first screenshot below). When I click the title, it goes to this page on Bing that highlights some of the sites their editors found (second screenshot below).
I wanted to point this out for a few reasons. First and foremost, it's cool and unique. Microsoft adCenter powers the paid and organic results for both Yahoo! and Bing. That said, both Yahoo! and Bing are adding on neat, unique features on top of the standard results. While Yahoo is Pushing The Limits of Organic Search with custom widgets and Rich Ads, Bing is pushing the limits with their Editors' Picks.
Second, it's quite likely that the Editors' Picks will affect your organic program on Bing. The Editors' Picks are ranking quite well. If you're in the Editors' Picks, that's really great news. Not only do they rank high, but it's also a way to get a second listing if your website already ranks on its own. If you're not in the Editors' Picks, it's likely your organic listing is being pushed down. You'll want to work really hard and think about creative ways to get into the Editors' Picks.
Third, as online marketers we need to be careful not to assume that Bing and Yahoo! will have the same organic results. Fundamentally, they are powered by the same engine, but now we are starting to see some really unique customization on top of the fundamentals.
Way to go, Bing! I'm looking forward to seeing more custom features within organic search on both Bing and Yahoo!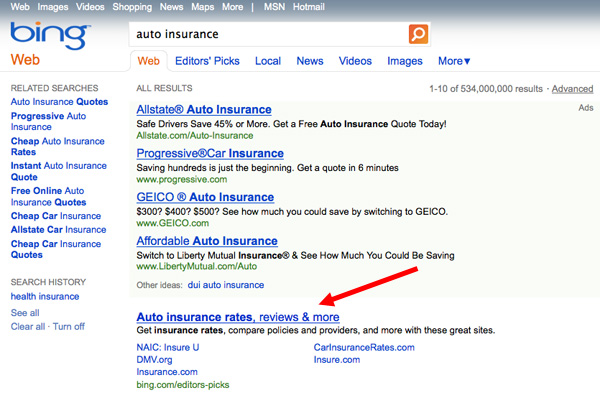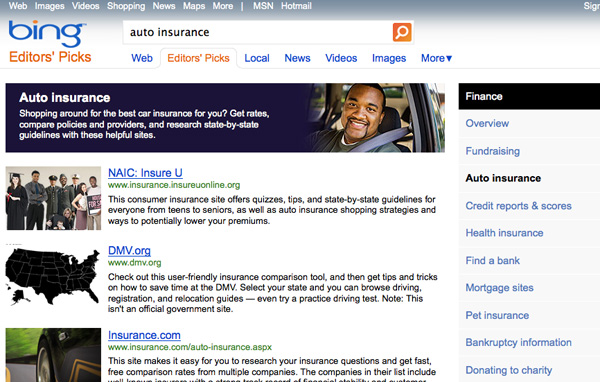 Images in this post © Bing.com