Whether you're in the corporate world of online marketing, or any other industry for that matter, business gifts go a really long way. Just recently, I received two really amazing gifts. The first was from my great friends at Rocket Clicks SEM Agency. I had recently helped them out and they sent me an amazing gift and also a thank you note. I received it today and was so happy and excited. Thank you, Steve, Nicole, and the entire Rocket Clicks team, you rule! (Side note: If you're looking for a great SEM agency, I can't recommend Rocket Clicks enough.)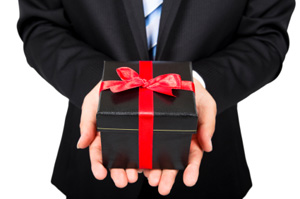 The second gift I received recently was from one of my good college friends. He now runs an investment fund and spent some time with my wife and I going over investment options. As a thank you for our time and also hospitality when he was in town, he sent us an amazing gift and thank you note in the mail. Again, we were super happy and impressed to receive such a great gift, how awesome!
A while back, I wrote a post about Online Marketing Business Etiquette. Both Rocket Clicks and my friend have so much business class and etiquette. Such etiquette goes a really long way, it sets them apart as people who truly care. They're true business leaders.
The point of this post: When someone does something to help you out, send them a small gift in the mail. If you cannot afford a gift (or do not have the budget for it at your company), send a nice handwritten card. It's not the size of the gift that matters. It's the thought! Some other quick tips:
Send gifts and cards around the holidays. Take the time to write really nice and genuine notes. These days, corporate budgets are lower around the holidays. No problem! It's the thought that matters.
If you manage a team, consider giving small gifts to those on your team who hit certain milestones. You need to stay within the guidelines of your company (many HR departments will place a limit on such gifts). This is a great way to Celebrate Success.
Always try to give as much as possible. There's nothing more fun and rewarding than helping others, in life and business.
Image of business gift © Tomwang112