Hey Everyone,
Today I wanted to highlight my cool new Bing t-shirt (see picture below). A few weeks ago, I noticed that @bing was running a Free T-Shirt Friday contest on Twitter. They simply asked folks to message @bing with a description of their search activities on Bing, specifically how people were using Bing to plan their weekend. At the time, I was searching on Bing for cool new online marketing blogs to learn some new pay per click strategies. I'm thrilled that I won the t-shirt and it's really great quality. I'm a huge fan of the upcoming Yahoo-Microsoft Search Alliance and an overall huge fan of Bing. Bing team, thanks for the free t-shirt!
All the best,
PPC Ian (Ian Lopuch)
P.S. My blog commenting contest is going extremely well, but it's not too late to enter! You still have over a week left to win a free review of your blog or website here on PPC Ian. To everyone who has participated so far, I sincerely thank you for your support.
P.P.S. I have been getting a lot of positive feedback about Jonathan Volk's Facebook Ads Guide. It's not too late to pick up your copy. Start implementing Jonathan's proprietary strategies now before they become commonplace!
P.P.P.S. I've been winning a lot of stuff lately! Check out John Chow's latest episode of Dot Com Pho and you can see yours truly winning a pack of Entrepreneur Heroes trading cards live on Dot Com Pho. Scroll down on that post and you can see my blog commenting strategy hard at work. It's blog commenting like this that has put PPC Ian on John Chow's top commentors and propelled my traffic to new levels.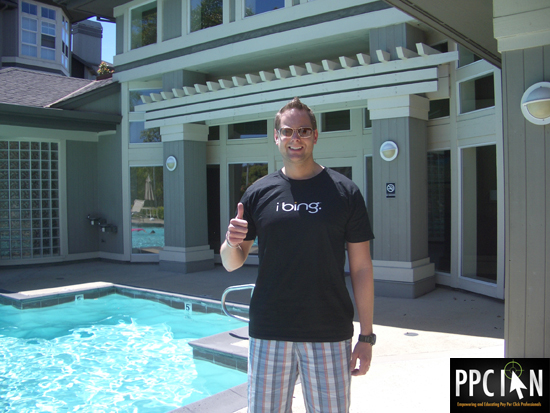 Image In This Post © PPCIan.com (An IJL Productions LLC Website)