2010 is almost here. I'm extremely excited because I feel like my personal and professional growth has been compounding over the last few years. I recently got married, purchased my first home with my beautiful wife, and joined a large publicly traded company as their Director of Search Marketing. In sum, I'm on a roll.
I feel confident that 2010 will be one of my best years yet, personally and professionally, and wanted to take some time to write my goals down for two main reasons. First and foremost, I'm a big believer in the power of writing. When you write your goals down, they become tangible. When you write your goals down, you're one step closer to making them a reality. Second, this will be a great way to share with all of you, my readers, what I'm thinking about and what's on my mind as we head into 2010.
Goal 1: Set Myself Up For VP of Marketing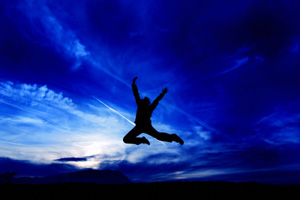 As you may already know, I'm the biggest proponent of the corporate pay per click search engine marketing career path out there. I'm passionate about corporate SEM. Corporate PPC has been extremely good to me and I've grown from Marketing Associate at a startup to Director of Search Marketing at a large publicly traded company in only 5 short years. As an ambitious guy, I've set my sites on the next level: Vice President of Marketing. I obviously don't expect VP in 2010. As you progress up the corporate ladder, it's very typical for each transition to take increasingly more time. Making the transition from Senior Manager to Director of Marketing, for example, took me about two and a half years. However, I really want to focus on the set up this year. My corporate SEM career is extremely important to me and I'm going to do whatever it takes to reach the VP level over time. Following is short list of the items I want to focus on this year:
Exceed my goals: At the end of the day, numbers are everything and success is very measurable in PPC.
Make my manager look good: I have been consistently rewarded in the past by always making my manager look good.
Get more exposure to senior management: Spend more time celebrating my team's successes to senior management and get more experience in general with my company's management team.
Expand my team: Hire more pay per click campaign managers and build out the best PPC team in the industry.
100% Employee retention and growth: My team means everything to me. I will continue to focus on employee retention, training, and growth. I will only feel successful at the end of the year if everyone on my team has grown significantly.
Expand process: Continue to build out documentation, infrastructure, process, and technology to make our PPC an absolute machine. Listing this one last because this stuff is child's play to me at this point.
Goal 2: Speak At One Major Search Marketing Event
This goal actually ties into my first goal very much. In terms of growing your career in search marketing, public speaking is a great lever. It's a great way to build up your reputation as an excellent marketer while giving back to the community. I have found time and time again that the more you give, the more you receive.
Last year, I had the honor of speaking to several hundred Google engineers at Google's client forum. I was told by several Googlers that I was the star of the panel, a definite boost to my ego. The event was an absolute rush and I'm shooting to increase my public speaking in 2010.
Goal 3: Attend At Least One Major Domaining Event
I've been a behind the scenes domain investor for a few years now. While I'm a domainer more from the "development with intent of learning new stuff that I can apply to my corporate career" side of things versus the "buying and selling" side, I really identify with the domaining community. Interestingly, I never really became part of the community until recently because I didn't classify what I was doing as domaining (I more classified it as affiliate marketing). I'm glad I found the domaining community in 2009 and must say that I really identify with these guys.
In 2010, I'm considering attending the T.R.A.F.F.I.C. conference or another big event such as Domainfest. While these conferences don't come cheap, I see them as a great investment in my education and networking. Additionally, I plan to make personal connections with more people in the domaining industry and plan to attend some of the Southern California Domainer MeetUps organized by Domainvestors.tv. As more of a stretch goal, I'm also pondering the idea of helping organize some Domainer MeetUps in the SF Bay Area.
Goal 4: Develop Six Domain Names
I'm a big believer in moonlighting to advance your corporate SEM career. There are only so many hours in the workday and it's not possible to learn SEO, PR, and web development while doing the best possible job managing your company's PPC campaigns. However, I have found all of this added knowledge is critical in advancing your career. How do you learn it all? Develop some web properties during your spare time. Currently, I have six live websites including this one. In 2010, I plan on doubling the number. How am I going to do this while working full time? I'm going to outsource 99% of the development and fund it through cash flow from my current sites. It will be a great exercise in delegation (skills that will directly help my corporate career) and I'm very much looking forward to it.
Goal 5: Six Pack Abs
My wife and I spent a lot of time with our personal trainer in 2009 and it has worked wonders for my energy. I'm now at the point where I can see some real progress and I want to take it to the next level in 2010. I can see the six pack abs happening and it will all come down to exercising regularly (at least 4 times per week) and eating right. I find that the healthier I am, the more energy I have to succeed.
Goal 6: Spend A Lot of Time With My Wife
Online marketing is absolutely great but it's important to never lose sight of the bigger picture. I have so much fun with my wife when we go the movies, go out to eat, and enjoy vacations on the weekends. In 2010, I'm going to challenge myself to put down my computer and enjoy life with my wife.
On thing is for sure: I'm pumped about 2010! What are your goals for the new year? I highly encourage you to write them down. It's amazing what can happen if you plan ahead and go for it! I wish you and your family all the success in the world as we head into the new year.
Image of Man Jumping © iStockPhoto – coloroftime