I'm a huge fan of smaller SEM/Digital agencies. I'm good friends with several digital advertising professionals who decided to start their own agencies. They are absolutely thriving! I even considered myself a single-client agency of sorts in years past when working on a consulting project here and there, although it has been a long time. In my professional career, I have had the true pleasure of working with a multitude of agencies of all sizes.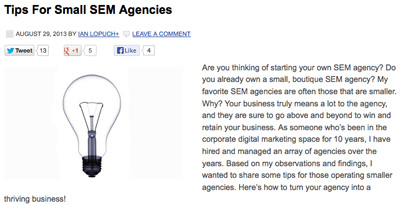 Over the years, I have grown a true affinity for smaller agencies. You get an unparalleled level of attention and dedication. For a smaller agency, every single client truly matters. I especially respect those smaller agencies that embrace all of the advantages of being smaller while also offering many of the advantages of larger operations (technology, scale, and breadth of experience).
Is was not always easy in the past since technology can be expensive for a smaller operation. However, recent technologies such as Acquisio Dashboard Edition open tremendous doors for smaller agencies everywhere, those who may have a lean technology budget and/or want to expand their technology over time as their agency grows. Acquisio is the performance marketing platform of choice for agencies, so Dashboard Edition is a natural fit.
When my good friends at Acquisio offered me the honor of guest posting on the blog, I thought I'd do a fun post about small agencies. In particular, I offer suggestions on Starting and Growing Your Small SEM Agency. Make sure to head on over to Acquisio to check it out. Thanks, Acquisio, for the opportunity, you are the best!
Image © Acquisio.com