If you've been reading PPC Ian for a while, you probably know that I enjoy running. You'll find me running a good 10-12 miles per week. From time-to-time, I enjoy participating in 5K charity races (I've even done a 10K and half marathon too). I'm not very fast, but I sure have endurance. More than anything, I enjoy running after a long day of work. For the busy business professional with a demanding schedule and hectic life, running brings clarity.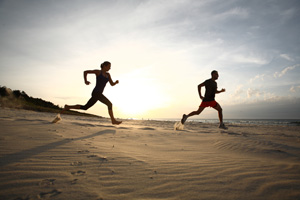 I'm here to encourage you to get out there and run! Do you find yourself so busy at work that it's difficult to take a step back and think strategy? I'm not talking about business strategy here. I'm talking about your life. I'm talking about your future. I'm talking about building your dream life. Thinking about your future requires clarity. It requires slowing everything down. Running brings that clarity and slows the world down.
Some other reasons I recommend running:
You get to listen to your favorite music while running, as loud as you'd like! And, you know PPC Ian enjoys bumping that rap music while running (and blogging).
Running is an investment in your health, and there is nothing more important than your health. Your health is your longevity. Your health is your energy. Your health is your ticket to living a long life, providing for your family, and getting the most out of your workday.
Running helps you sleep better at night. After a long run, I'm so exhausted that I cannot wait to get a solid night's sleep. Most of us digital marketing professionals probably don't have problems sleeping anyways (since we work such long hours) but the extra solid sleep is definitely nice.
Running is a sport for winners. I cannot tell you how many awesome, amazing people I have encountered at various charity races. Running brings out the best of the best, the real leaders and positive winners.
Running is something you can do almost anywhere: Before work, after work, on vacation, during business travel. Running is almost always possible.
Running eliminates stress. Difficult workday? Get out there and run your stress away.
Next time you are looking to slow things down and experience clarity, get out there and run as fast and as far as you can!
Image of runners © iStockPhoto – petrelos