I was looking at my YouTube stats the other day and the numbers really spoke to me… I'm not talking about my new PPC Ian Digital Marketing Academy (I'm just getting started there), but one of my other, more established channels. My videos have been watched a total of 14,997 minutes in the last 30 days! That's the equivalent of 10.41 days.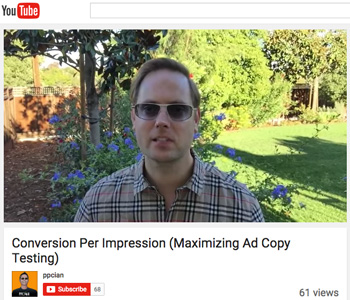 By investing in YouTube, I literally found a way to multiply myself. I'm an incredibly busy person with many commitments. Everyone reading this blog is in the same shoes. We love what we do, we work long hours, and we have little time left. I find myself constantly wishing for more hours in the day so I can do more things.
One thing on my list is reaching out and helping others. If I were to spend 10.41 days each month training others (in addition to my current responsibilities), it would simply be impossible. However, YouTube changed everything! By gradually investing in new YouTube videos over time, I have built some seriously valuable channels that have multiplied yours truly.
Because I'm so excited about YouTube these days, I decided to put together a long blog post offering 13 Tips To Supercharge Your YouTube Channel. Whether you are new to YouTube or a seasoned pro, I'm certain my tips will help. Want to read my tips? Just head on over to the incomparable Acquisio blog to check out my guest post.
While you're there, please make sure to check out Acquisio digital marketing platfrom. They offer one of the most incredible performance marketing platforms in existence, one that automates digital marketing. Just as YouTube multiplies, platforms like Acquisio allow digital marketers to multiply their time, via automation! As I grow as a marketer and business person, I find that time is so incredibly scarce. When you find ways to automate, clone, and multiply, you have found true value.

Image of Acquisio Blog © Acquisio