I'm really focused on saving money this year, it's one of my top goals. Just a few posts ago, I highlighted Ways For PPC Professionals To Save Money. Since there are so many great ways to save money, especially through the lens of the PPC professional, I wanted to follow up my prior post with some more money saving tips today!
Tip 1: Let Unnecessary Domain Names Drop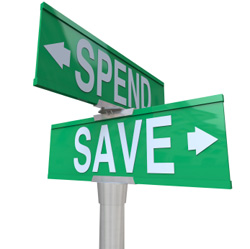 If you're a paid search professional, there's a very high probability you own some domain names. If you don't, I would at least recommend registering your own name. Even if you are the best domain name investor ever, you will probably have some unnecessary names in your portfolio. Don't feel bad. Even the most respected domain investors around, such as much friend Morgan Linton, have registered domains that they have later dropped. In fact, Morgan dropped a good percentage of the domains he registered in his first year domaining, realizing that his strategy needed to evolve.
So, how do you choose which domains to drop? While everyone's model will be different, I'm dropping domains that meet two criteria. Criteria 1: The domain has no intrinsic "equity" resale value. Criteria 2: I have no plans to develop/monetize the domain. Also, on occasion, I will drop a domain I've developed that is not monetizing well. Registrars make a ton of money on annual renewal fees. Your domain name is a lifetime stream of recurring income to the registrar. Drop your unneeded domains and save yourself hundreds/thousands over the years! I've dropped many domain names this year and am happy to save the money and simplify my portfolio.
Tip 2: Always Leverage GoDaddy Coupon Codes
This tip ties into the last one. If you're an online marketing professional, you likely own domain names. It's also quite likely that your domains are registered with GoDaddy, the Internet's leading registrar. When renewing your domains (or other GoDaddy products), always check your email for coupon codes. I receive coupon codes each week and always make use of them. You can save a substantial amount of money over they years by refusing to pay full price and always utilizing GoDaddy coupon codes.
Bonus tip: GoDaddy experienced some network issues on September 10th. If you have hosting account(s) with GoDaddy, you should get an email regarding a credit. Make sure to follow the instructions in the email to redeem your GoDaddy in-store credit. I just redeemed my credits!
Tip 3: Don't Forget To File Expense Reports
As a corporate professional, you are likely in incur expenses on your personal credit card related to work. I'm talking about mileage to company events, business usage of your personal cell phone (voice/data plan), team business lunches (where you paid for everyone), lunches with clients/customers, and other similar expenses. Every company has a different policy regarding expense reports. Make sure to understand what is covered and what is not. Then, be very diligent about filing your expense reports, especially if there's a cut-off date for filing such reports. I have known several search marketers who did not take the time to file expense reports and then lost hundreds (or even thousands) over time.
As a PPC marketer, you're always looking for ways to save your company money, while growing volume. Make sure to also focus on saving money yourself. And, for more tips, check out my previous post about saving money.
Disclaimer: I'm not a financial advisor and this is not financial/investment advice. Before making any financial decisions, make sure to contact your financial advisor.
Image of Save Vs. Spend © iStockPhoto – iqoncept