Just over a week ago, Nicole and I participated in the 20th Annual 5K Run and Walk For Lupus. Benefiting the Lupus Foundation of Northern California, this great event made an impact on those in need. It was our honor to participate in this particular event for the third time! Here's a fun photo of PPC Ian after completing the 5K race: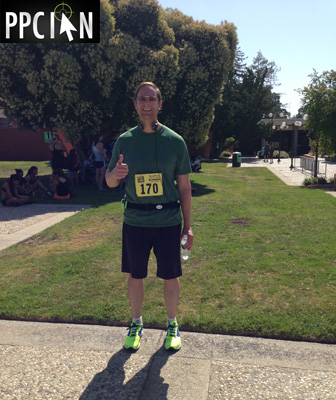 Each year, the Lupus 5K is held West Valley College in Saratoga, CA. I particularly enjoy this event because of the beautiful setting, in the foothills of Saratoga. It's a great course with rolling hills and plenty of nature/scenery.
For those who have been following me for a while, you may know that I'm into running quite a bit these days. I'm not a particularly fast runner, but I'm great with long distance and consistency. It's such a great way to get in shape, clear your mind, and have some time to think. I have found that my running has increased my overall focus and energy. It's amazing the business and life insights that hit you while running!
It's equally fun to leverage running as a way to rally behind an important cause. These events are so much fun because they always bring together a top-notch community of winners. Busy professional who's also looking to stay in shape and give back? Definitely consider some local charity runs this summer! Just remember to stay hydrated and practice.
Image in this post © PPCIan.com