Google AdWords now offers a new compare dates feature. Check out the screenshot to the right. Whether you are on the keywords tab, campaigns tab, or any other tab for that matter, you should now see the compare dates functionality. Today's post offers some quick tips on getting the most out of the compare dates feature.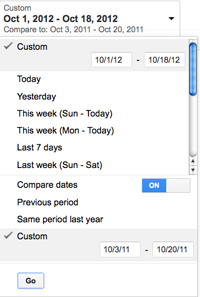 Using compare dates is quite easy. All you have to do is pull down the date selection menu and then opt into the compare dates by turning in from "off" to "on". Next, you need to select how you want to compare dates. There are three options:
Previous Period – Looks at the number of days in your base date range and then selects the same number of days immediately prior to your base date range. Does not match up days of week. Just looks at raw number of days.
Same Period Last Year – Looks at the same calendar days from the prior year. Does not match up days of week, but compares the base range to the comparison range based on calendar days.
Custom – Compares your base range to any custom comparison range you choose.
Once you enter the comparison option, remember to click "go". At that time, your graph/chart will update to include both your base range and your comparison range. When you mouse over the chart, you can see the data behind both date ranges.
Personally, I find the most value in the custom comparison. It's really difficult in online marketing to compare two periods unless the days of the week match up. Why? Otherwise intra-week seasonality may skew the comparison. If you're looking at much longer time periods (such as full months or quarters), you can look at calendar days. However, most of the time, I'm comparing same days of the week. As such, it's all about the custom comparison. Check out the screenshot above. I'm comparing the same days of the week for 2012 versus 2011 leveraging the custom comparison.
To the best of my understanding, the custom comparison just updates the graph/chart at this time. I hope in the future Google AdWords extends this comparison to the grid view as well. Google has been innovating like crazy and it's great to see new features like this, great work Google!
Image in this post © Google AdWords