This has been one exciting week for PPC Ian! It all started out with my exclusive Sean Marshall interview. Then, I had the honor of guest posting on AdMedia's blog about Enhanced Campaigns. I had an absolute blast at the Marin Software Cocktail Party. Of course, I worked amazingly hard during all of this great stuff. Today's post rounds up the week and highlights my fun visit to the InsideVault office earlier this week!
You may recall, I wrote a post a while back Introducing InsideVault. These guys are amazing! I'm personal friends with several employees at InsideVault, and I am here to say they are brilliant people and have built an amazing SEM platform!
On Tuesday night, after wrapping up an exciting and productive day at work, I drove over to the InsideVault San Carlos office. I met with Chaitanya Chandrasekar (CEO & Co-Founder), Brian Bird (Co-Founder & Head of Business Development), and Guillermo Cockrum (Business Development). I got a demo of the platform and it's quite impressive. I was especially thrilled to see:
The overall speed of the platform. InsideVault is really fast. These guys are big data experts and built the platform for amazing speed.
InsideVault fully supports Google product listing ads. If you're in the product shopping space, this feature is sure to help you out.
The platform offers an amazing level of detail. I'm talking about going beyond the keyword level: keyword + slot + network + match type + device + more! InsideVault really allows search marketers to drill down.
InsideVault offers reporting at the ad extension level, plus an easy interface for sitelink management.
So much more!
After an exciting demo, hanging out with friends, and taking pictures (see below), my good friend Guillermo and I went over to The Office for dinner. If you have not been there, I recommend it – the burgers are great. Are you in the market for an SEM automation platform? Want to take your SEM program to the next level? I highly recommend checking out InsideVault. Ask for my friend Guillermo and he can arrange a demo for you!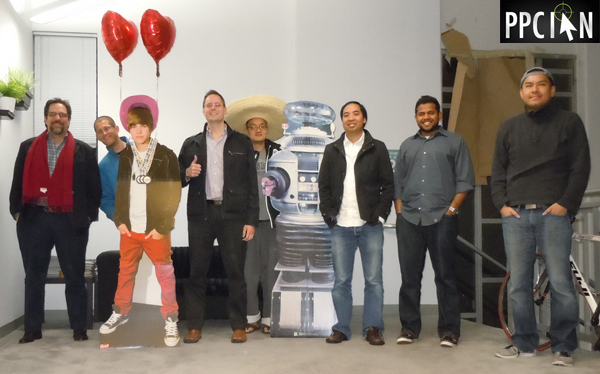 Image of PPC Ian and InsideVault © PPCIan.com