In my last post, I was just writing how Google+ Is Showing Up In Paid Search, in a major way. Today, when performing my Daily Checks, I noticed a major change on Bing too. I noticed a little number in the upper right hand of my screen that kept going up with each search. Then, I clicked the little number and went to a page about Bing Rewards. You can see a screenshot of the Bing Rewards page below.
So, what is this Bing Rewards? Basically, Bing is allowing you to earn points just for searching. As you get more points, you can redeem your points for rewards such as gift cards, Xbox LIVE points, and more.
I think this is a really neat idea. I'm sure that Bing Rewards will draw some more attention to Bing and increase loyalty. People love freebies and rewards. That said, Bing Rewards could also potentially lower click quality. Some people may search just to get more points. Some may go as far as creating automated bots to search on Bing. With those increased searches, it is possible that some of them click paid search ads with a lower propensity to convert. It will all come down to Bing's click quality monitoring, which in my experience is quite good. My end conclusion: This is a really neat concept, hopefully it will increase volume over time, and (especially in the short run) it will be important to keep an eye on click quality just in case Bing Rewards affects click quality.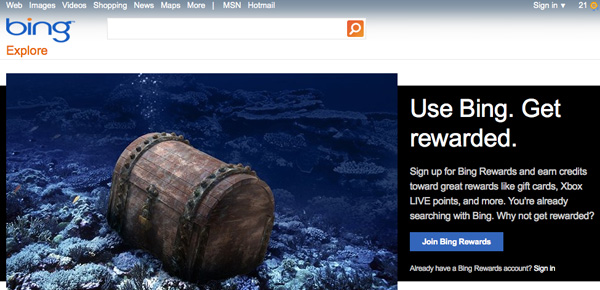 Image in this post © Bing