Hey Everyone! PPC Ian here… I'm thrilled today to share an amazing guest post from my good friend Vito Glazers – online marketing legend, Executive Director of Incorporated Consulting LTD, and owner of CPATank. For those that are newer to the affiliate marketing industry, CPATank is one of the absolute best affiliate networks around. If you're trying to make money online, you absolutely must sign up for CPATank. Today's guest post is the very first guest post on PPC Ian and Vito has truly set the bar high. Without further ado, let's jump into this exciting post about offline email lead capture…
Ian, I want to first of all thank you for giving me the opportunity to do this guest blog post with you. I was reading about your trip to Las Vegas and came across your blog on Showtime capturing Email leads through a photo booth.

This couldn't have come at a better time because just last week as Adam, Flo and myself were heading to lunch, our attention was seized by a giant wall display for one of my favorite childhood brands; LUNCHABLES!!!
Usually on Monday's the CPATank crew sneaks out of the Watchtower to grab some lunch at the Water Tower Place shopping center across the street from our Michigan Avenue office in Chicago, IL. There is an amazing food court called Food Life that features gourmet fare inspired by some of Chicago's top restaurants. We like going there because everyone can pick out something different and we can still eat together as a Family.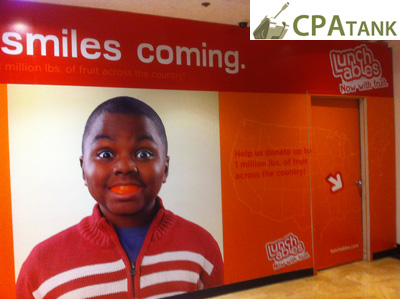 As we were coming up the escalator to get the food court which dominates the entire second floor, we were blindsided by a bright orange wall filled with LCD screens and images.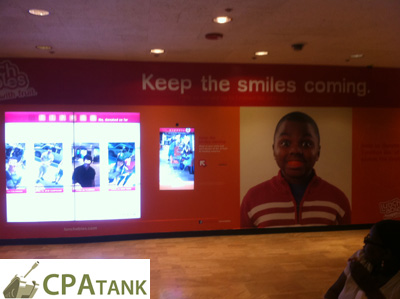 Basically the theme was that Lunchables was trying to raise 1 Million Pounds of Fruit to give to underprivileged communities around the U.S. They have an extremely creative 'call to action' right at the top of the escalator. It doesn't say "BUY NOW" or "JOIN HERE" — it says "Keep The Smiles Coming" which makes me think some college graduate really earned his $26,000 a year with that one. I definitely wanted to keep the smiles coming, especially after seeing all the happy people who had already taken their photo and edited their face into a piece of fruit (that was the special effects they provided to keep it exciting).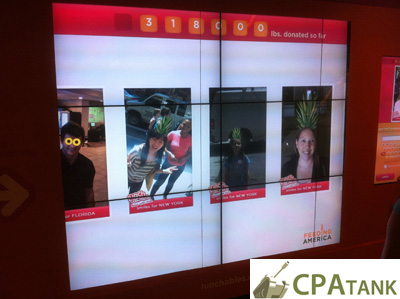 You can see at the top of the lifesize screens they have a running total of how much of their goal they have satisfied as well as photos of other participants from around the country. There is no better testimonial than a smiling face. Anyways, Flo was down to keep the smiles coming. She seen the camera and had to be in front of it. Smiling ear to ear we started playing with the giant camera and that stood before us.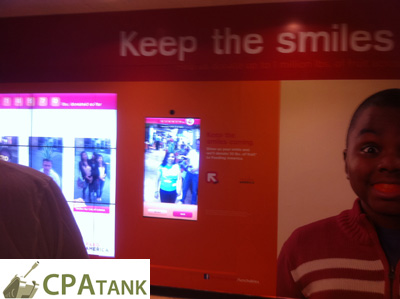 So we snapped a couple shots, the last one was the best. The interface was simple to use. It was clearly modeled after the camera interface of a GIANT iPhone. I thought it was pretty awesome because my least favorite characteristic of both the iPhone and iPad are that they are too small! I want an entire 8 x 10 wall made of iPad touchscreen goodness. So I got to live out part of my dream of living in a house made completely of iPad touch screens for a few moments while I approached the camera to see what was coming next.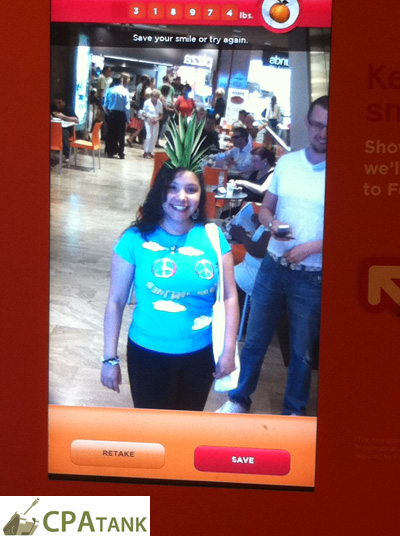 Flo got a shot in that she was happy with and we were ready to go to finally "Finish and DONATE" as the touchscreen instructed us.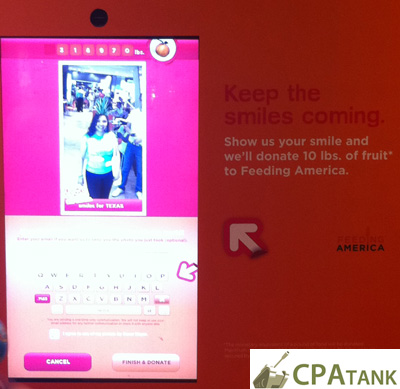 We took a step back to take in the full effect of this offline marketing setup. Keep in mind, we are still unaware that there is any catch to 'Donating Fruit' and we are under the impression this is here for our own personal and vain amusement.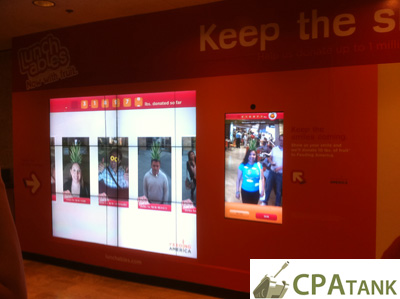 I forgot what happened but Flo's picture didn't save on the jumbo screen so I stepped in to give it a shot myself.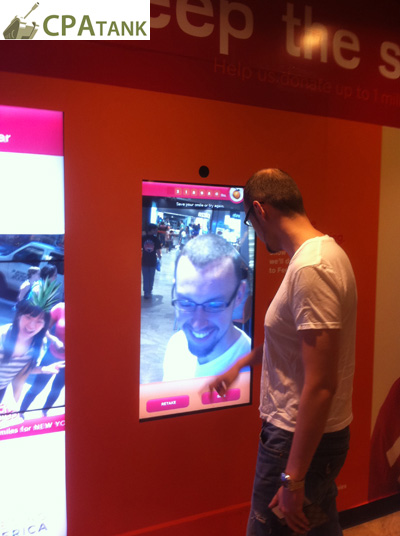 I took a quick photo, selected where I wanted my donation to go (Illinois, because I ALWAYS donate locally! Help your neighbor first!), and took a step back to get ready for the next step.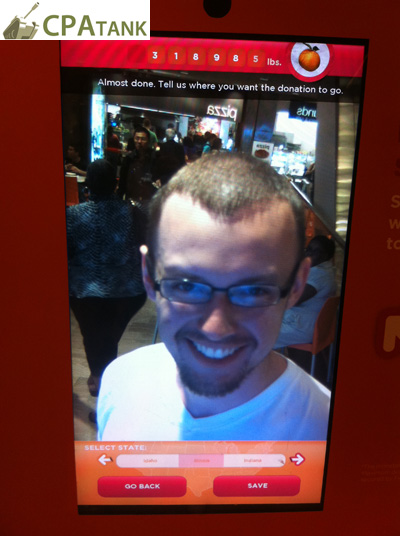 So finally my wacky picture is ready to be submitted and I my 10 pounds of fruit will be donated to my home state! I have done my good deed for the day and I am ready to treat myself to a lunch and now maybe even some dessert.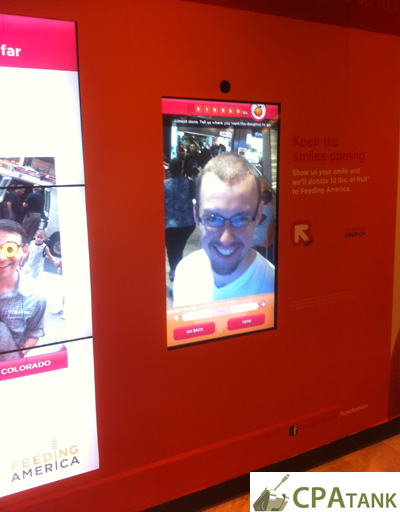 So not only do they now know exactly what I look like and where I want my donation to go. Things are about to get interesting.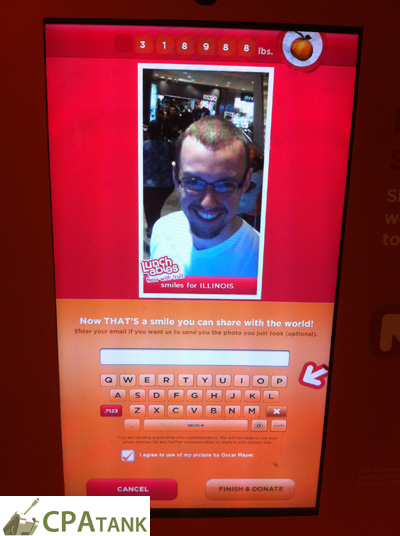 Much like the Showtime submit Ian mentioned in the previous post, in order to get my picture Emailed to me, I have to opt in to the Email Submit. They clearly know what they are doing with the prechecked authorization to release your image to Oscar Meyer. This is very effective and targeted offline marketing. Once you enter your Email, you can "FINISH AND DONATE" and they have captured you!!
They will Donate the 10 pounds of fruit probably right around the time you get your Free iPad.
Hey everyone, it's PPC Ian again. Wow, what an amazing guest post. Vito, I want to sincerely thank you for this great post. This is a seriously fascinating case study. Moreover, it's a true honor to have someone of your caliber and accomplishment sharing your insight here on PPC Ian. Want to learn more about Vito and CPATank? Make sure to check out:
All Images In this Post © CPATank.com