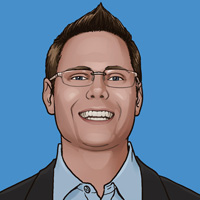 Dear PPC Ian Visitor,
Allow me to introduce myself: I'm Ian Lopuch, also known as PPC Ian, the go to guy in corporate Silicon Valley when it comes to pay per click (PPC), search engine marketing (SEM), and online marketing. When it comes to online marketing as a career path, I'm the industry's greatest proponent. My goal: Impart my complete knowledge on you. My greatest sense of accomplishment comes from mentoring others and I sincerely hope to boost your personal career in PPC and online marketing with my no-nonsense tips and strategies. Beyond tactical Internet marketing tips, my goal is to detail the online marketing game and how to win it.
In this article, I'll discuss my unique story, why I decided to launch PPC Ian, and how PPC Ian differs from other blogs in the space. I'll start off by highlighting some of my recent mentions in the press. Then, I'll continue with my video introduction, followed by my story in written format. Thanks so much for visiting my blog, I truly appreciate it!
PPC Ian In The Press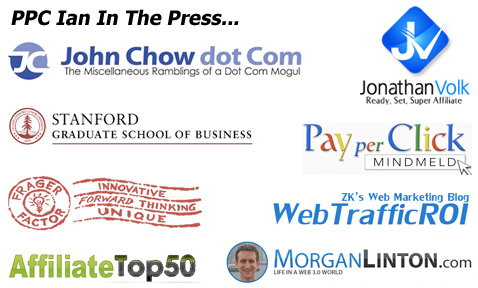 As a blogger, I feel that it's absolutely critical I build up my reputation and trust with you before you read even one post my my blog. After all, there are so many experts out there. What sets me aside as someone you should be listening to? Well, you can definitely see my qualifications on my SEM Consulting page and also my LinkedIn Profile. However, I'll let other leaders in the online marketing space do the talking! Following are a few of my favorite moments in the press:
In addition to these press mentions, I have been invited to speak at Stanford Graduate School of Business twice. You can see videos of My 2010 Stanford GSB Presentation and My 2011 Stanford GSB Presentation.
As an online marketing guy, you can definitely see that I've also got quite a bit of passion for PR as well. Now, I'm excited to transition into my introductory video and personal story!
Video: Who Is PPC Ian?
Big thanks to my amazing and beautiful wife, Nicole, for shooting, editing, and producing this video! Interested in learning more about PPC Ian? Below, I discuss my corporate pay per click experience in written form (with some very exciting details).
PPC Ian: An Overachiever For Life
I've always been an overachiever. In my early days, I was Valedictorian of The Buckley School, one of the most prestigious and competitive high schools in Los Angeles. I thrived at this highly competitive high school and left a lasting legacy. As a natural progression, I attended Stanford University and flourished in their Computer Science program, while also acting as co-president of The Charles R. Blyth Fund, one of the most prestigious student-managed investment funds in the country. In June, 2004 I graduated Stanford University with my BS in Computer Science and minor in Economics. Computer Science was awesomely challenging and I really enjoyed it, but left Stanford feeling a bit burnt out from the all nighters and lack of communication with humans. I knew at that point that I wanted to leverage my analytical and algorithmic skills from Computer Science while acting more on the business side of things.
My Beautiful Wife, Nicole, Gave Me The Luck I Needed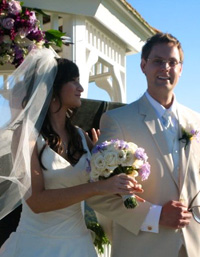 Right around this time, I also met my beautiful and amazing wife, Nicole. She was a freshman at UC Santa Cruz so I definitely wanted to stay in the Bay Area to be with Nicole. I actually had the opportunity at this point to work for my Dad at his real estate business in Los Angeles. While I'm still considering working there one day, I'm really glad I stuck it out in the Bay Area. For anyone new in their career, I cannot say enough about learning to stand on your own two feet by taking the more difficult path (if you take only one lesson from this site, please challenge yourself with the difficult path). The satisfaction and growth I experienced in my first few years out of school on my own are truly invaluable. Moreover, I just couldn't imagine life without Nicole. In fact, had I not met Nicole I most likely would have moved back to LA – Nicole has always brought me the best of luck! By staying in the Bay Area and pursuing my career in pay per click search engine marketing, I have grown to heights I could have never imagined.
Transitioning From Stanford Computer Science To Corporate SEM
So I graduated Stanford and needed a job, but I definitely didn't want to program. There were a few routes I explored: investment banking, management consulting, and the "business analyst" side of technology. I very quickly ruled out the first two, I just didn't like the vibe that I got from the people and the industry in general. When I was starting to get desperate, I found a small company called NexTag at the Stanford Career fair, almost by chance. After briefly talking to the recruiter at the career fair, I immediately knew that company was my destiny. It was the ideal combination of the business analyst role with technology and operations. For the next two years and seven months, I learned pay per click, people management, process management, and product management from the best manager I have ever had to this day.
NexTag: The Foundation of My Entire Pay Per Click Career
While we're on the topic of NexTag, I'm going to set the record straight – I'm very passionate about the following point. Without a doubt, NexTag was the best corporate experience I have ever had in my life. I got promoted several times, got an additional stock option grant, quickly managed the entire SEM team, and even reported to the Executive Vice President of Engineering at one point (only a few years out of college). In short, NexTag set the foundation for my entire career. I continue to be thankful for my experience every single day. Moreover, NexTag is the gift that keeps on giving: I'm a very proud shareholder of NexTag stock. Another side note and one of the main reasons I stress building your PPC career via the corporate route is the great opportunity to build a personal diversified portfolio of stock in private companies. I know own stock in three very successful private companies! (You may want to check out my post about how I Made It Big In Online Marketing with corporate stock options.)
Transitioning To A Higher Title At QuinStreet
So why did I leave? It was a very difficult decision. I was a Marketing Analyst and Team Lead at NexTag and got an unsolicited offer to step up to the Senior Manager role at competitor QuinStreet. (Side note: You may want to check out my post about Getting Passive Job Opportunities on LinkedIn.) My ideal opportunity came across and I just couldn't pass it up. I became QuinStreet's Senior Manager of financial services online marketing. I got to broaden my expertise from comparison product shopping and mortgage at NexTag to a plethora of new verticals: debt, credit cards, insurance, travel, B2B, franchise, and so much more. Moreover, I enjoyed the opportunity to learn new marketing channels (such as SEO and the long tail domain strategy), in addition to an entirely different culture. Whereas NexTag taught me all about process and automation, QuinStreet developed my sales skills. It was definitely not easy. While I got several pay raises and additional stock option grants at QuinStreet, I never made it to the coveted Director level. However, this experience did set me up for the most amazing sprint of growth yet!
Time To Move On For Added Stability
So I had been at QuinStreet for over two years and things were starting to change in the financial services landscape. As the head of financial services search marketing during the rough times starting in late 2008 and someone who recently purchased a home with my wife, it was time for me to seek added stability in an industry outside finance. Thankfully, I have just about the most robust LinkedIn profile possible and get job opportunities frequently. As things started to change, I started entertaining the offers that I previously had passed by. Very quickly, an amazing opportunity came up to lead SEM at Palo Alto startup Inflection (formerly People Search Media).
My First Startup PPC Experience: Inflection (Formerly People Search Media)
It was a welcome change. I enjoyed reporting to my 22 year old boss who started the company out of this Harvard dorm room. How amazing and inspirational is that! I leveraged my experience from NexTag and QuinStreet to build the infrastructure, technology, and process from the ground up. I enjoyed the benefits of a very flat and open organization, in addition to accumulating stock in a very exciting and fast-growing company with the strong likelihood of a liquidity event in the coming years. I was quickly promoted to the coveted Director title (one of the largest milestones in my career to date) in a company where there are very few Directors and executives. I became a recognized leader in the company and mentored the careers of many, my absolute favorite reason to get up every single morning. In addition to all this great stuff, I learned so much about launching new businesses, SEO, affiliate marketing, and so much more. Inflection.com took my online marketing skillset to the next level.
I'm Now Director of SEM At a Large Public Company
So everything is going great and then, one day, my world gets turned upside down! I get the amazing opportunity to step up as Director of Online Marketing at a large publicly traded company. Now, you know I just got promoted to Director at Inflection so you may be thinking, why is he so excited about moving to a different company? It was a terribly difficult decision, but an offer came alone that was just too amazing to pass up! This move marks a healthy step up in my career and reputation in the space. The fact that I've gone from Marking Associate to Director of Search Marketing at a publicly traded company within five years of graduating Stanford is amazing! Moreover, I get the amazing opportunity to report to this company's CMO, a world-famous marketer and leader in the space. I finally get the opportunity to work at a company that's strong not only in online marketing, but also all the traditional marketing channels as well. (Want to learn more about my current company? Please check out my LinkedIn.)
I Want To Help You Build Your Corporate Search Engine Marketing Career
I'm definitely proud of what I've been able to accomplish. However, that's not the purpose of this site and I don't want to give that impression. As mentioned earlier, the main reason I get up every single morning is mentoring and helping others. My largest successes have been the promotion of my direct reports. I have former direct reports who are now Senior Managers and even Directors themselves, at very large and successful companies. That is just about the best feeling in the world! However, I quickly learned it's not scalable. My goal is to help as many people as possible and I can only manage and mentor so many reports in my normal job. Consequently, I decided to launch PPC Ian to deploy all of my knowledge about online marketing, both the tactical stuff but also the career side of things. There are many affiliate blogs on the Internet that offer tips and tricks. I don't want to reinvent the wheel and will only offer tactical stuff that I feel is missing from the current supply of knowledge out there. However, there is very little information for those who want to go the corporate online marketing route and climb the ladder rapidly. This is the core focus of my site.
I'm a strong proponent of the corporate route. It's been good to me. The corporate route took me from Associate at a private company to Director at a publicly traded company in only five years. The corporate route has helped me build an extensive network of people I truly respect and enjoy. The corporate route has helped my wife and I enjoy the finer things in life. The corporate route has brought joy and passion to my life, in addition to a strong sense of accomplishment. It's my time to give back. I want to help you take the corporate route and build your name in online marketing. I'll show you the nuts and bolts but also the broad stuff. I'll show you how to become the next big name in the industry and get the calls and emails every day from recruiters. Thank you so much for visiting my site, it truly means a lot to me. All the best to you in your online marketing career!
Sincerely,
Ian Lopuch, PPC Ian
Avatar of PPC Ian © PPCIan.com (An IJL Productions LLC Website)
Image of Ian and Nicole © PPCIan.com (An IJL Productions LLC Website)
Video "Who Is PPC Ian?" ("About PPC Ian") © PPCIan.com (An IJL Productions LLC Website)
Image with logos of In The Press © Their Respective Owners