On Friday, I had the pleasure and honor of visiting the main Yahoo! headquarters in Sunnyvale. Check out the picture below of yours truly and Justin, the absolute best Senior Account Manager ever. (Justin just wrote this great post on the Yahoo! Advertising Solutions Blog about expanding your keyword list – make sure to check it out!) Being Yahoo!'s 18th birthday, we picked an amazing day to visit Yahoo!
When we arrived, the guard at the front gate directed us to special VIP parking right up front that was blocked off with cones. Talk about feeling like a celebrity! Next, Justin headed down and greeted us. We went up to the Yodel conference room. Honestly, I cannot believe what I saw there! Our company logo was all over the place! I'm talking about on a sign in front of the door, above the massive TV monitor, etched onto the window, even on the name placards where we were to sit. The room had all the beverages and snacks one could want. The Yahoo! purple was all over the place, even down to the delicious Yahoo! chocolates. It even had some really great gifts! I have never experienced anything like this before. Sure, SEM is an industry where large advertisers are treated really well. However, this experience takes it to a whole new level. Wow, Yahoo! thanks for treating us so well, you are the best!
At this point we were so pumped up that the strategy session was unparalleled. At least 50 actionable ideas were generated. We had senior leaders from Yahoo! stopping by. It truly was a meeting made of greatness. SEM is all about energy and energy is what drove our meeting.
After our strategy session, we headed downstairs to the URLs cafe. I was blown away. The steak teriyaki dish was among the best I have ever hard. This place was pure heaven. After lunch, we went upstairs for more strategy, and then a trip to the Yahoo! store on the way out.
I wanted to take this opportunity to highlight a few important things:
Yahoo! absolutely rules. I love Yahoo! and am so excited for their 18th birthday!
The Yahoo! account management organization is among the best I have ever worked with. They are so strong. I'm especially impressed with their actionable, tactical tips and overwhelming energy in helping clients implement and enjoy the benefits of those strategies.
Yahoo!'s campus is amazing. The food is among the best I have had in any cafeteria. If you are considering a career in online advertising, I highly recommend looking into opportunities at Yahoo! because they already rule and are also expanding fast.
Justin and team, thank you so much for the best Friday ever!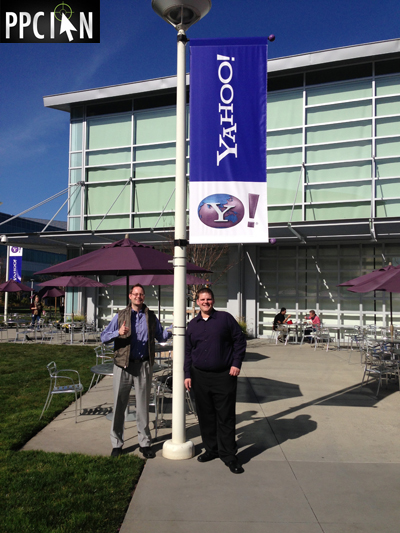 Image of PPC Ian and Justin © PPCIan.com