I was absolutely shocked to see Google advertise on the last Superbowl. Recently, I saw something that shocked me even more. I really can't believe it! Google is advertising on Yahoo Search Marketing. I've got the screen shots below to prove it, just read on!
Google Shows Up On "Mortgage Rates" On Yahoo!
The other day, I noticed that the word "mortgage rates" was trending on Yahoo's homepage. As someone who used to manage multimillion dollar campaigns in the mortgage vertical, I couldn't help but click through to the search results to see what was happening in the category. Mortgage sure has changed since I was in that category: Google showed up in the first position on Yahoo Search (see screen shot below).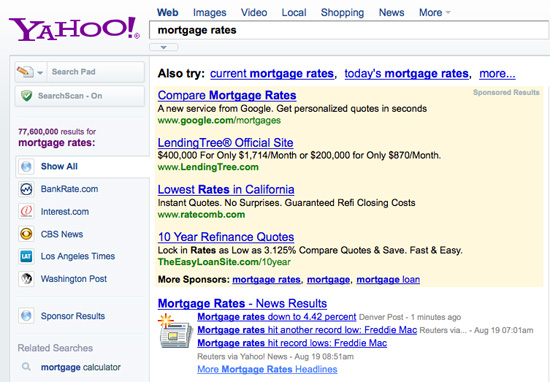 Google's Mortgage Tool
I wouldn't want to be in the mortgage lead generation business right now. Why? Google now offers their own mortgage rate comparison tool. Whenever you search for a major mortgage keyword on Google, you'll see Google advertising their tool at the top of the page. Honestly, it's a really cool tool and provides some serious competition for mortgage lead generators.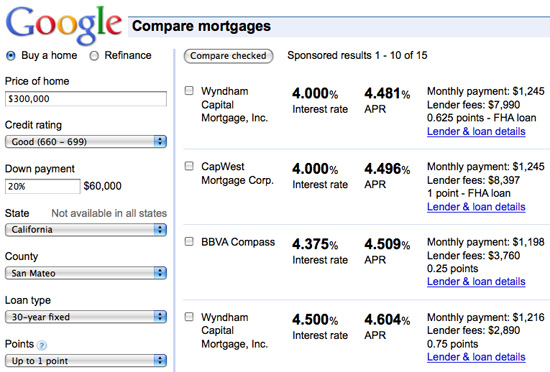 Google Is Tracking Their Yahoo Search Marketing Campaign
My last screen shot for today is really neat! After I clicked Google's ad on Yahoo Search, I took a close look at their tracking URL. You can see in the URL bar screen shot below that Google is definitely tracking their campaign. The two parameters that stand out to me are s=3 and kw=mortgage+rates+today.
I believe the first parameter indicates that Yahoo is identified by "s=3" (perhaps "s" stands for source?). In terms of the keyword parameter, it seems like Google is advertising via advanced match since they showed up for the keyword "mortgage rates". Moreover, "mortgage rates today" is a bit longer tail so it shows that Google is not just going after the top, obvious keywords.

It's funny: I'm really glad I took these screenshots when I did! Today, Google is no longer showing up on Yahoo for popular mortgage queries. One thing is for sure: I'm going to keep a very close eye. What's even stranger about all of this: Yahoo Search Marketing is going away very soon. Shortly, Yahoo! search results will be powered by Microsoft adCenter via the Yahoo Microsoft Search Alliance. Perhaps Google will be advertising on adCenter next?
Images In This Post © Yahoo! and Google