I have a lot of goals this year (check out my 2014 goals). Goal 8, one of my favorites, is working out at least 4x per week. As a busy professional, I find that my personal free time is less and less as each year passes. As such, it's sometimes a challenge to find time to exercise. This year, I'm going to have to get a little clever. Below are some tips on how I plan to exercise throughout the workweek in 2014.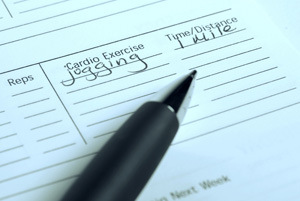 A while back, I wrote a post about Taking Advantage of Surges In Energy. When I wrote this post, I was mainly thinking about getting work done, and taking advantage of bursts of energy for hyper-focus. This year, I hope to do the same for workouts. If I'm feeling particularly energetic, I'm going to try to do a quick workout. It will be all about quick, intense exercise.
Certain days, I plan to bring my running gear to work, going for quick runs either during lunch or after work. Depending on the day, the office I'm heading to, and my overall schedule, my commute can be either be long or short. On those variable days where I expect a longer commute, by the time I get home, I'm sometimes too tired to exercise (driving in traffic can drain your energy). My solution? I'm going to run before getting in the car to drive home. That way, I can truly relax once I get home.
I've been conducting 1:1s with my team while walking around the neighborhood. Walking is super great exercise. This is a fun way to brainstorm, while making sure my team and I get some fresh air during the workday.
I'm looking forward to hiking with my wife on weekends. Check out my recent video blog post about Taking A Hike.
I'll strive to get in some quick pushups or situps whenever I can. Strength training is just as important as cardio. Even if I don't have a ton of time, I can do a few reps here and there, throughout the week.
Exercise is important. It keeps your mind clear and focused. It increases your longevity and health. It's all about keeping perspective. Do you have any clever ways to integrate workouts into your busy work schedule?
Image of Jogging 1 Mile © iStockPhoto – jpimages