In my opinion, it's all about PPC. At the same time, you can be even better at PPC if you learn other marketing opportunities and channels as well. Just last week I wrote all about offline marketing and specifically the WebEx Caltrain Station Takeover. Today, I'm excited to share one of my new blog marketing strategies: blog commenting.
Growing PPC Ian's Traffic Base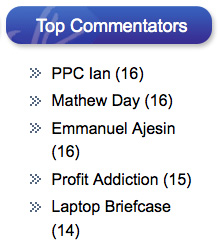 I launched PPC Ian, my first blog ever, back in October, 2009 and it has been an amazing learning experience for sure. My marketing strategy originally revolved around my extensive network of friends on Facebook, Twitter, and LinkedIn. As the months passed, my strategy shifted to an SEO and PR one with a little PPC mixed in. My traffic stats are now at an all time high thanks to loyal readers like you! However, I'm an ambitious guy and definitely want to grow my traffic quite a bit more. Moreover, realizing that blog marketing requires a whole different skill set than my portfolio of static websites, I'm now experimenting with some new marketing strategies including blog commenting.
Why Am I Commenting On Blogs?
There are many reasons I decided to start commenting on other blogs with the following topping the list. First, I noticed my friend Jeremy from Profit Addiction commenting everywhere! In tandem, I noticed Jeremy's traffic and comments on his blog spiking. Blog commenting seems to be a strategy working quite well for Profit Addiction so this definitely piqued my interest in running my blog commenting test.
Second, I realized that blogging is a very social phenomenon. It's all about conversation. If you don't participate in the conversation, you're not going to get as much attention. I realized how important it is for me to join the conversation. This is a very different philosophy that the one I've historically leveraged with my portfolio of SEO websites and one of the key differences between a blog and static website, in my opinion.
Third, I realized that blog commenting is a great way to get quality inbound links to my blog. Many of the great blogs out there have a top commentors list in their sidebar or footer (meaning the list shows up on every single page of these blogs). Moreover, many of these top commentors lists are real links. Unlike links in the actual comments you make, the top commentors links do not contain nofollow tags so search engines respect these as legit links!
Fourth, and most importantly, it's just plain fun! I'm commenting on other blogs because I very much enjoy it. There are a number of amazing blogs out there about online marketing and it's fun to join the conversation.
Where Am I Commenting?
There are two images in this article. The first shows me as the number one top commentor on Jonathan Volk's Blog. I'm a long time fan of JV and enjoy his blog quite a bit. If you've been reading my blog for a while, you may know that JV interviewed me a while back. I can always count on JV for quality posts and enjoy interacting with others on his blog. Moreover, his top commentors list gives me that great inbound link I was just discussing. I'm currently reading JV's new eBook about Facebook advertising and hope to review it here in the coming week or so.
The image below shows one of my comments and also shows that I'm a top commentor on JohnChow.com. In the world of online marketing, JohnChow.com is a man who needs no introduction. I actually just reviewed John Chow's Book and was also reviewed on John's blog a while back. Like JV's top commentor's list, John's also provides a quality inbound link.
Want to learn about more of the blogs which I frequently comment on? Make sure to check out my blogroll and also my post from a while back about PPC Ian's favorite online marketing blogs.
Some Closing Thoughts
While my experiment is still in progress, I wanted to leave you with a few interesting closing thoughts. First, I must say that commenting requires time! Not too much for me at this point, but the commitment is definitely there. Longer term, I may decide to outsource some of the work if I further build out this strategy.
Second, I am already seeing some results. I'm getting direct traffic by participating in the discussions out there about online marketing. At the end of the day, that was my goal so I'm thrilled.
Third and most importantly, I wanted to call out the great fact that I'm learning. If you're in the corporate PPC world like me, you're probably laser focused on PPC all day long. That focus is a good thing because it creates a guru level mastery of PPC. At the same time, it leaves little room to learn other stuff. Most of my personal knowledge of SEO, email marketing, and now blogging has been self-taught. If you're in the corporate world of online marketing, I highly recommend dabbling in a few side projects such as blogging. Your knowledge will skyrocket and will start paying dividends in your corporate career.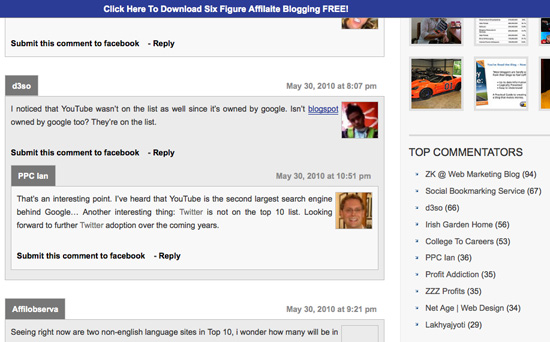 Images In This Post © JonathanVolk.com and JohnChow.com