Can you believe it? It's already Thanksgiving. This has been such an amazing year and I am truly thankful for so much. Today, I wanted to take a quick moment to say thanks. The list below just covers a few highlights. I am thankful for so much more, so if I missed you on this list please know that I am still truly thankful.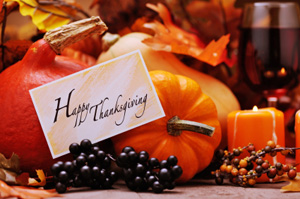 I am so incredibly thankful for my amazing wife, Nicole! I am truly the luckiest man around. The past 3+ years of marriage have been the best years of my life.
I am so thankful for my wonderful parents and family. I cannot imagine being in the fortunate position I am today without the coaching and upbringing from my amazing parents!
I'm truly thankful to work at a company that I love. I just hit my 3-year milestone in October and got promoted to VP this year, my lifelong goal. I have the best team ever and it's an honor to come into work each and every day. I work at a company that is truly making a difference in people's lives.
I'm thankful I got into this industry. I majored in Computer Science and minored in Economics. I had no idea what PPC was when I started. I'm so thankful I randomly found this career path, right when the industry was starting out. What a fun adventure it has been!
I'm very thankful for my friends within the online marketing industry. I write a lot here about networking. I view everyone in my network as a personal friend and have learned so much from everyone. I'm especially thankful for my mentors, I'm now doing everything I can to give back and mentor others. Special thanks goes out to The Free COO.
I'm thankful for my health and great quality of life. The online marketing industry has allowed my wife and I to accomplish so much, and to enjoy a super quality of life. We are very fortunate.
I'm thankful for the opportunity to give back. Whether it's mentoring others in this industry or donating money to charities, I have made a conscious effort to raise the bar this year. I find that the more I give back, the more I get.
I'm thankful for Google, Yahoo!, Bing, and all other search engines. You guys built am amazing industry. There would be no search engine marketing without the search engines. I'm especially thankful for the amazing customer service teams / account reps at the search engines. You guys are the ones making it happen!
I'm thankful for my blog, PPC Ian, and for all of my readers (you)! This blog has provided an amazing vehicle for sharpening my skills, sharing my opinions, and enjoying my passion for writing. I get so much out of the blogging process and can't thank you enough for reading.
I'm truly thankful for my sponsors such as AdMedia Online Ad Network and Rocket Clicks SEM Agency. Running PPC Ian costs money. My sponsors help compensate for the bills and are the ones that truly keep the lights on. Thank you to all my amazing sponsors.
I'm amazingly thankful for online marketing automation. I'm talking about platforms like Kenshoo. Without automation, our days as pay per click marketers would be filled with an endless amount of manual work.
I'm thankful for rap / hip hop music. I'm a true connoisseur of rap music, it keeps me going. I'm also very thankful for jazz music. I'm most thankful for those for the visionaries that combine rap with jazz.
I'm thankful for my sources of inspiration. Here's where I'm Finding My Inspiration Online. Thanks for keeping my going!
I'm thankful for investing and the stock market. I have so much fun following the market, analyzing opportunities, and formulating strategy.
I'm thankful for the opportunities that have been provided to me. I do not take my responsibilities lightly. It is an honor to live this life and I am always looking for ways to give back!
Thanks so much for reading and I'm wishing you and your family a truly amazing Thanksgiving and holiday season! I hope your weekend is fun and relaxing and that you enjoy tons of time with your friends and family.
Image in this post © iStockPhoto – Moncherie