As you may know from my about me, I was co-president of The Charles R. Blyth Fund, Stanford University's prestigious real money investment club. My passion for investments actually dates all the way back to my high school days. I'm still addicted to the game and can't get enough whether we're talking public companies, private companies, or even commodities. You may be thinking, "What the heck does this have to do with pay per click search engine marketing?" Surprisingly, it has a whole lot to do with your SEM career.
Connect With Internet Executives on an Investment Level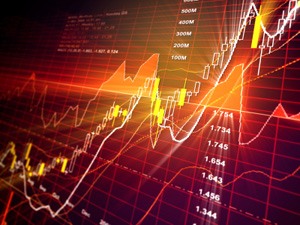 I have a natural ability to hold lengthy conversations with executives. I'm very proud of my ability and it's something that I've been leveraging since day one when I interviewed for my first PPC job in 2004. For a while, I didn't really know why I had such successful relationships with senior executives. Now, I do. What am I typically talking to executives about? All aspects of investing!
At the end of the day, all executives are investors. All executives enjoy talking about investments. From my experience, all executives are passionate about investing in their personal portfolios, but let's put that aside for a minute. Focusing just on the operations of your organization, executives are in strategic roles where they're often making investment decisions for the company. They need to know the market thoroughly and are always thinking on a merger and acquisition level. From that perspective, it's impossible to be an Internet executive without being an investor. Now, If you're a passionate investor, you immediately have a common point of interest that you can leverage to make a great name for yourself and increase your odds of promotion.
Your Investment Knowledge Will Add Value To Your Company
Now, you may be thinking, "Ian, this sounds a bit superficial. So I'm supposed to shoot the bull with the executives about tomorrow's hot stock and I'll get promoted?" The short answer: Yes and no. There are two important takeaways here. As you get promoted, you'll become a visible leader within your organization. You need to prove you can hold a conversation with the decision makers (and investing allows you to connect and prove your abilities).
Second, I truly believe your knowledge about investing will add serious strategy level value to your organization, which is exactly what leaders need to do. There exist a multitude of ways your investment knowledge could pay off greatly. I'd like to highlight just one small example next.
I'm passionate about sifting through thousands of small company stocks. One day, I took this passion to the next level by searching for small Internet businesses that could make great acquisition opportunities for my employer. I started frequenting sites like Buy Sell Website to find website investment opportunities. One day, I came across a perfect acquisition opportunity for my current employer. I drafted up a proposal and after our due diligence we ended up acquiring my recommended investment. Needless to say, this definitely helped my career.
Learning About Investment Essentials – A PPC Manager's Guide
So this all sounds great, but you're not sure where to start. First, there's absolutely no reason to worry at all. You're a pay per click search engine marketer. The tasks that you're performing every single day are precisely the same skills that will help you become a great investor. You're great with numbers, modeling, Excel, operating to a solid margin, and identifying growth opportunities. PPC is the quintessential operational role and it sets you up to become an investment superstar.
In terms of building your investment toolkit, following are my top pieces of advice specifically for those in pay per click search engine marketing:
As soon as you hit your stock option vesting cliff (typically one year after your start working for your employer), exercise at a least a percentage of your stock options. This will give you access to your company's annual report, not to mention putting a little bit of your personal wealth on the line. Spend time reading your company's annual report at length. You'll learn a whole new dimension about your organization and will be armed with the very information that decision makers are pondering daily.
Know all the players in your industry, both public and private. You're probably already familiar with your competition from the PPC landscape. Take it to the next level by researching them from a strategic investment perspective. A great place to start is Yahoo! Finance. The ties you'll start forming between your operational knowledge and the strategy side of things are astounding. The ties will help you formulate and communicate your PPC strategy on a whole new level.
Read as many investing books as you can. I know, you have limited time. You need to make time. Robert Kiyosaki is a great introductory author and my favorite financial mentor. Over the years, I've read a huge number of investment books. Because you love PPC odds are you'll get addicted to investment books like me!
Last, make sure to invest a few of your own dollars. There's no better way to learn that putting your own money at risk. Never risk more than you can afford to lose and start small. Your company-sponsored 401k might be the best place to start. Then, consider a brokerage account and start investing in individual stocks. This experience will greatly reinforce everything else.
To close out, I want to underscore the importance investing as a tool to accelerate your SEM career. PPC and investing go and in hand. Armed with the two, you'll start seeing major strategy opportunities and will climb the corporate ladder to become a PPC executive in your own right.
Image of Bull Market © iStockPhoto – Henrik5000