Back in April, I wrote how Google is Integrating Google+ Into Paid Search, big time. At that time, I was particularly impressed that Google was leveraging paid search real estate (the right rail) to highlight Google+ pages. Since then, I have seen Google run a number of such experiments. How do you show up in such experiments? You simply need a bi-directional link from your homepage to you Google+ page and one from your Google+ page to your homepage. One thing is for sure: Google+ is here to stay and Google is spending major resources promoting Google+.
In today's post, I wanted to highlight something really cool: Google AdWords social extensions. Check out the screenshot below. Quicken Loans has an extra line of ad copy highlighting their Google+ page. How do you set this up? It's super easy. Just go to your ad extensions in your Google AdWords account. Then, go to the social extensions. Create a new extension and input a link to your Google+ page. Last, you simply need to wait for verification before your ads start displaying the social extension (just like the Quicken Loans ad). How do you get approved? It's as simple as creating a bi-directional link (the same as mentioned earlier in this post).
Here's the cool part: You get an extra line of ad copy. You will note that Quicken Loans has four sitelinks displaying AND the social extension. Social extensions are incremental real estate and a great way to promote your Google+ page while also improving the CTR of your ad copy. In fact, I have heard that social extensions can increase your CTR by ~5% (that is, your CTR will increase by 1.05 * your current CTR). Have you tried social extensions yet?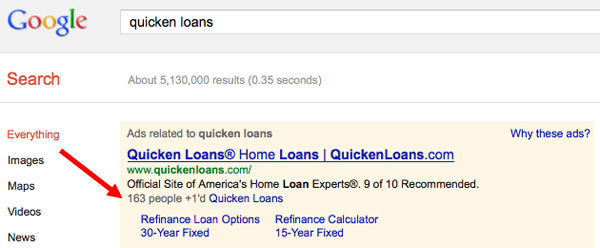 Image © Google and Quicken Loans