Do you advertise on mobile smartphones and tablets? Mobile search marketing is absolutely taking off. If you've tapped out the easy opportunities on desktop search, you absolutely must take a look at mobile. Even if you haven't exhausted desktop search, you'll want to look at mobile as part of your overall strategy. Today, I wanted to take a step back and provide a high level framework to think through mobile search marketing. I hope this framework helps in formulating (or refining) your own mobile strategy.
Start With Google AdWords, But Don't Forget AdCenter
As with desktop search, you'll get the most leverage with Google AdWords. That said, Microsoft adCenter provides great mobile search marketing opportunities as well. Just like Google AdWords, adCenter allows you to create separate campaigns for tablets and smartphones. They even allow you to segment by device. The key message here: adCenter has been innovating and you'll be amazed what you find! Make sure your mobile strategy covers all search engines.
Create Separate Campaigns For Tablets & Smartphones
Mobile search is quite a bit different than desktop search. We're talking about different conversion rates, different CPCs, different bid landscapes, and different strategies. I highly recommend managing your mobile campaigns separately. Specifically, you will want to segment out unique campaigns for desktop, tablets, and mobile smartphones. Sure, this creates more overhead and complexity, but it also gives you the precision needed to really dial in your campaigns. Remember to go granular. Just because mobile is a smaller percentage of your ad spend now, it will one day surpass desktop search. Set up the proper infrastructure now for long-term scale and success.
Think Through Your Mobile Customer Experience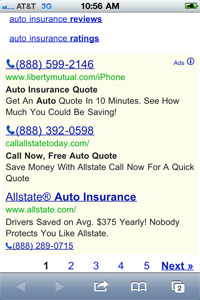 Most likely, your tablet experience will be similar to your desktop experience. Tablets are incredibly powerful and offer large screens. Think through your tablet experience. If you're thinking of doing something different than your desktop experience (especially a really simplified mobile smartphone-like experience), definitely make sure to test. You may be surprised at what the conversion rates tell you when you offer something too simplified. Bonus tip: Understand how your site views tablets. Does your website bucket them into the "mobile" bucket? If so, you may be incorrectly sending tablet traffic to the smartphone site. Make sure to QA for both iPads and also Android tablets. Both should go to the intended tablet site.
Now, when it comes to mobile smartphones, you will have a more difficult decision. First and foremost, I recommend developing a mobile smartphone site. Most likely, your mobile site will be different than your desktop site. No matter how simple your business, desktop experiences just don't work on small mobile smartphone screens. Even if you don't opt to send paid traffic to your mobile smartphone site, you will need it to capture organic and direct traffic. Bonus tip: Consider testing mobile smartphone landing pages. Landing page testing is a great way to improve conversion rate, on both desktop and mobile experiences.
After your mobile smartphone site has been developed, you now will want to start testing paid traffic from AdWords (and adCenter). If you have a long conversion funnel and a strong call center, you'll also want to consider mobile click-to-call. Click-to-call is the perfect way to leverage your call center while bypassing your mobile smartphone site if you don't have one or if it performs at too high of a CPA for paid search to effectively work. Alternately, you could send traffic to your mobile site, but also display your phone number in a sitelink. Users on mobile smartphones are on phones. Offering/highlighting the opportunity to call is a great way to convert new customers.
I've been thinking about mobile a lot lately. Mobile tablet and smartphone advertising marks an important shift in our industry (perhaps the largest since AdWords was invented). What's your mobile PPC strategy?
Image in this post © Google and advertisers in screenshot