I'm a huge fan of dividend-paying stocks. In fact, it's part of my 2012 Goals to save as much money as possible and invest it wisely (in dividend-paying stocks and other income-yielding vehicles).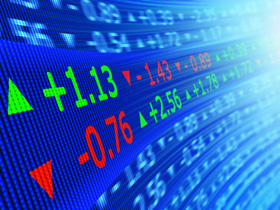 I'm always searching Yahoo! Finance looking for new opportunities. Recently, I found a stock called R.R. Donnelley & Sons Company. R.R. Donnelley (Ticker: RRD) provides printing and corporate communications services for businesses. They've been in business since 1864 and employ 58,700 employees. When it comes to print (newspapers, magazines, direct mail, and even investment materials), R.R. Donnelley does it all.
Over the last few weeks, RRD stock has taken quite a hit. There are a number of reasons the stock is going down, but one is certainly the belief that the printing industry is going under. It's all about digital media these days. This is certainly good news for those of us in the pay per click search engine marketing career path. That said, it's also sad to see an old company under such pressure.
When a dividend-paying stock goes down, dividend yield goes up (that is, assuming the dividend does not get cut). Right now, RRD is yielding an impressive 9%. It's quite difficult to find any large cap companies yielding this amount. As such, RRD looks to many like quite the promising investment. That said, the dividend is only secure if the print industry is around for the long haul.
What do you think? Do you think that the print industry is going under? Do you think RRD could follow a similar fate to Eastman Kodak (recently filed for bankruptcy)? Or, do you feel that the print industry will always have a presence, despite the growing popularity of digital media? While the 9% dividend yield is enticing, I'm staying away for now. There's enough uncertainty that this risk averse investor is going to wait and see. In any event, it's quite interesting to see the trends we all know (more online media consumption) playing out in the stock market (both via the popularity of Internet stocks and the unpopularity of print stocks such as RRD).
Disclosure: I don't own stock in R.R. Donnelley and do not anticipate opening a position in the next 72 hours.
Image of stock market © iStockPhoto – ahlobystov