Back in May of 2010, I presented a two hour introduction to online marketing at Stanford Graduate School of Business. The presentation went incredibly well and was a true honor and milestone in my career. I graduated Stanford with my BS in Computer Science so it was really exciting to go back and present at Stanford GSB.
Today, I've got some really exciting news: I just went back and presented again this Wednesday! That's right, I got invited back in less than a year so I'm definitely on the right track. I'm very passionate about Stanford, online marketing, and public speaking so I'm truly excited about this accomplishment.
Even better news: I have six HD videos of my new presentation that I'm excited to share with you. The first two videos are featured in this post, and then I will include the final four within the next few days.
While last time I presented an extensive introduction to the various online marketing channels, this time I provided a plethora of quick win tips for entrepreneurs. I highlighted pay per click, SEO, social media, and viral marketing tips that are easy, actionable, and effective in marketing any small business. After my first hour presenting quick win tips, I spent another hour doing a deep dive of some of the students' sites. I especially enjoyed this part because I got to see some really amazing early stage businesses from the best and brightest minds. (Since the business are early stage with some in stealth mode, I only have video from the first hour.)
I was fortunate yet again to have an amazing audience of around 35 or so genius GSB students from the entrepreneur, high tech, and marketing clubs, students who asked some really great questions! My sincere thank you to everyone from these great clubs and everyone at GSB who attended and hosted me, especially Courtney from Wokai.
Today's First Online Marketing Video
I have two exciting HD videos to share with you today. The first video covers quick wins on Google AdWords and Facebook. When it comes to Google AdWords, there are few marketers out there who have been directly responsible for as much spend as myself. This is really where it all started for me and how I became a guru in the online marketing industry. I'm newer to Facebook advertising but am quickly learning. I have been promoting my Facebook Fan Page quite a bit lately and discuss some tips for gaining more likes!
My Second Stanford GSB Video
The second video covers more Facebook advertising tips, the Yahoo/Microsoft Search Alliance, keyword generation (via broad match), and blogging. I really hope you enjoy these videos and can't wait to share the next four. Thanks so much for watching.
PPC Ian and Some of My New Friends From Stanford GSB
Below you can see yours truly with some of the students from Stanford Graduate School of Business. I actually spoke to about 35 or so students. We took this picture after the presentation with some of the students who stayed after to ask questions. I sincerely appreciate the great turn out and all the support from Stanford GSB's entrepreneur, high tech, and marketing clubs! Also, I want to especially thank Courtney (next to me in picture) for organizing this event!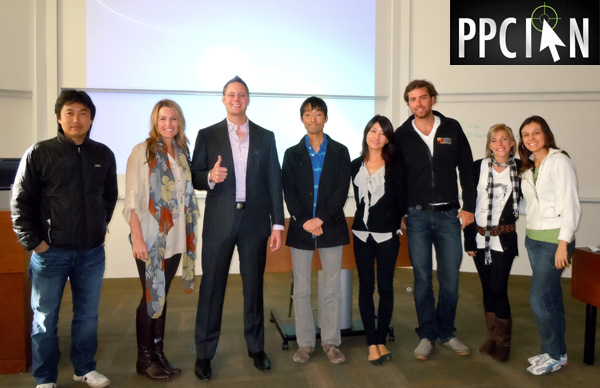 Images of PPC Ian at Stanford GSB © PPCIan.com