I truly enjoy customer acquisition marketing because it's a very operational role. At the end of the day, it's all about making things happen and driving the numbers. I love that responsibility. That gets us to the topic of today's post: motivation. You need to be greatly motivated to get stuff done and drive results. I recently blogged about how You Can't Always Do It Alone, Your Team Is Strength. While your team offers you strength and support, how can you motivate and support your team? Following are just a few tips…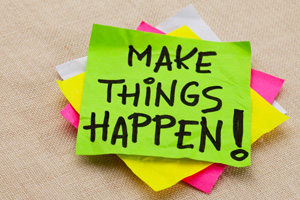 Always place your team first.
Be available at all times. Prioritize your team first.
Take feedback and ideas seriously. Foster an environment that rewards new ideas and creativity.
Embrace ideas from your team that are even better than your own. Hire those that are incredibly smart, and reward them.
Create career path opportunities. Reward excellence.
Fight for those on your team.
Trust your team with great responsibility. Mistakes are ok, that's the best way to learn.
Make sure your team gets credit for the work. Try to find speaking opportunities, case studies, and more so your team shines. As a manager, you'll get credit for shining, but you'll get even more credit if your team shines and represents the team.
Be a proud manager. Be proud when your team shines.
Send your team to fun events and conferences, even if that means you cannot go.
Create a work hard, play hard environment. I emphasize the play hard side of things. When people are working late nights and weekends, it's all about creating that balance. Reward your team with lunches, days off, and times of less work. It's all about longevity.
Celebrate birthdays, work anniversaries, and holidays. Don't be afraid to bring small gifts to your team. The thought truly counts!
Be ready to help those on your team at any time. Offer strength through challenges and difficult situations. Approach all challenges in an extremely calm and strong manner.
Make sure to invest in your team, especially from a technology standpoint. Audition platforms such as Kenshoo. Make your team a very critical part of the process. Purchase those platforms that are favored by the entire team.
Get in early and leave late. Managers should always be available at all times, and work hard. Teams will not respect managers at much who do not put in the same hard work as everyone else on the team. More than anything, you should want to do this. Management carries great responsibility.
Stand up for your team. Don't be afraid to protect your team/family.
Be a fearless leader. All businesses face uncertainty and challenge. The leader can make such an impact via the right attitude. Be fearless and lead your team through both bad times and good.
Grow employees internally, if possible. I don't like bringing in high-level hires. I prefer to push employees and stretch their abilities. Grow employees internally. Even if they're not ready, throw them into the fire. Give your employees their own employees. Nothing is more motivating than a manager who truly cares and is doing everything in their power to create a true career path.
Be an advocate of people management and get those on your team opportunities to manage new hires. Make it your life's mission to build great people managers. This is a great way to amplify your impact on your business and the world.
Hope these tips help. How do you motivate your team?
Image of Make Things Happen © marekuliasz