Keywords are the most fundamental building block of digital marketing. As the picture on the right implies, they are the key to your success within online advertising. Whether you're a PPC or SEO professional (or both), there is not a day or minute that goes by when you are not thinking about keywords. I've been generating and managing keywords for nearly nine years, so you'd think I have exhausted every trick in the book. Not true! I still find some clever strategies each and every month and wanted to share some of the latest ones that are top-of-mind. You never stop learning in this incredible field. Remember, the best keywords are the trending ones, oes that have not yet become popular, ones that are not in any of the automated tools yet. Today's tips are all about forecasting the future and beating the competitive rush!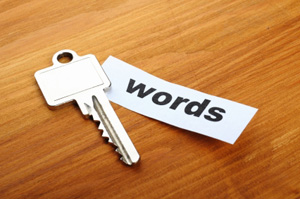 Attend industry events and become a futurist. Learn about all of the latest trends in your industry. Chat with industry leaders. Attend seminars and ask questions. Become a thought leader yourself. To the extent you can leverage industry events to predict the future, you can start buying those keywords today. You can start building high quality content and engaging user experiences around them now. The only constant in this world is change. Predict the change and act on it now, you will build a competitive moat by doing so!
Devote some time each week to reading cutting edge literature. You need to go beyond the easy stuff. Blogs are so fun and easy to read, and are a great place to start. However, I also recommend reading technical literature, non-profit studies, academia research, and other dense material. Such studies are not always the easiest to read, but will truly provide cutting edge trends before they hit the mainstream. Digital marketing is not just about being good at our trade, it's also about becoming a deep expert within your field.
Sit in on customer phone calls, visit your call center. Customers offer a true wealth of knowledge and inspiration. After all, any business is in business to help their customer. If customers speak to certain pain points, why not address them in your product, paid search, and organic strategy.
Collaborate with partners via business development calls. Does your company have strategic partnerships? Learn about new and exciting trends through partnerships, as a team. Just make sure that you are giving back as much as you get, all partnership as a two-way street.
Collaborate with anyone and everyone in your company who will listen. While your call center is a perfect starting point, there are so many other key functions in your company who can provide a wealth of knowledge around new trends. Some of my favorites: Executive leadership, product management, and sales.
Hire a really, really great SEM Agency. The best agencies, like my friends at Rocket Clicks, truly get to know your business. They are not only masters at PPC, SEO, and UX, but take true pride in becoming vertical leaders/masters within your industry. The beauty of this vertical integration is amazing ideas, such as predictions of where the industry is headed and how to stay ahead of the curve from a holistic marketing perspective!
Keep testing! New trends often take time to work. There are so many times that I have experienced bad keywords transforming into good ones. Keywords that are negatives today may become positives tomorrow. Past performance is not always an indication of the future. Remember to keep testing new ideas and never lose hope in future trends. While you may lose some money testing, the long term upside is tremendous.
Image of Keyword © iStockPhoto – gunnar3000