Long time search engine marketing professionals have a huge amount of respect for Kenshoo, one of the most amazing digital marketing platforms in existence. Kenshoo Search is in an elite category of platforms and consistently impresses me (and all other digital marketing professionals). In addition to Kenshoo Search, Kenshoo also offers an amazing social platform, aptly named Kenshoo Social. If you're a digital marketing professional that runs campaigns on Facebook and other social networks, you absolutely must audition Kenshoo Social. Kenshoo Social is not just for social media professionals, it's for performance-driven digital marketers running huge campaigns on social networks.
Today, I wanted to share a new infographic from Kenshoo Social. In their Facebook Ad Trends Infographic, Kenshoo Social shows just how quickly Facebook is improving from a direct-response standpoint. Comparing Q2, 2013 vs. Q1, 2013, it's absolutely staggering how quickly Facebook is improving on metrics such as CTR, CPC, clicks, conversions, and revenue. I highly recommend checking out this infographic as a way to benchmark your own direct response campaigns on Facebook. Are you experiencing rapid improvement in your performance? Many advertisers are. As a side takeaway: Always keep testing! Something that may have not worked for you just a few quarters ago could now be one of your best channels.
In addition to overall Facebook trends improving at rapid pace, Kenshoo Social also finds that Real Time Dynamic FBX Creative Outperforms Static Creative. This makes perfect sense – get as granular and targeted as possible. Your prospective customers will appreciate the customized experience and respond to your FBX ads. One thing is for sure: If you're a big advertiser on Facebook, make sure to reach out to Kenshoo Social to see how their platform can help your program scale.
Kenshoo Social: Click Image to See Full Infographic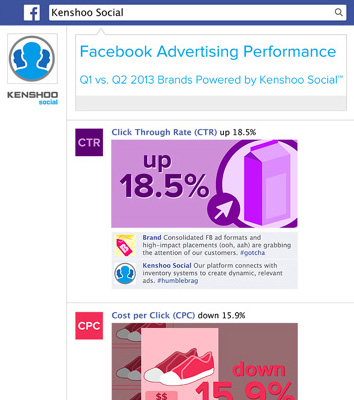 Image in this post © Kenshoo Social