Who do you associate with? Is your inner circle uplifting your life and career? Are they pushing you forward and challenging your mind? If your answer is "yes", you are on a great path. Associating with great people, and great digital marketers, will push your own potential to the maximum.
However, what if that is not the case? What if you've got a few bad apples around? They could be in your business/professional life or personal life. If you're not associating with great people, your progress could be stagnated or, even worse, reversed. While most professionals in digital marketing are great, I have run across a few bad apples over the years.
Today, I'm thrilled to share some tips on how to Associate With Great Digital Marketers. To read my tips, you'll want to click the previous link and head on over to my friends at 3Q Digital, one of the top digital marketing agencies around. If you've been a PPC Ian reader for a while, you may know that I have the honor of guest posting over at 3Q Digital from time-to-time. I'm a tremendous fan of 3Q Digital and hope you enjoy reading today's guest post. Above and beyond the world of digital marketing, I hope today's tips help provide food for thought around your overall business and life strategy!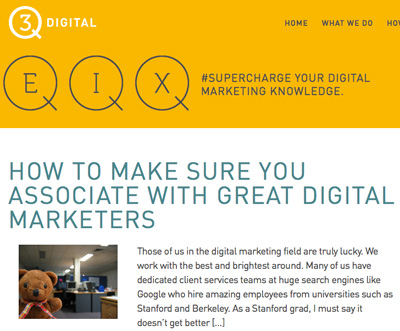 Image in this post © 3Q Digital