Check out the screenshot below, you're going to be amazed at what you see! It's the right rail of the search results for the keyword "insurance" on Google. As you can see, the map and then the Google+ integration are taking over in a major way. Not only is there a section featuring businesses with a large number of followers, but it even has the number of +1's under the Progressive ad. Two takeaways:
If you're not on Google+, make that investment now. Make sure to get in as many people's circles as possible. Make your Google+ profile great, and get lots of interaction happening. This is going to be another major source of traffic to your site.
If you're a big paid search advertiser, make sure to get in the top, yellow bar if at all possible. The paid results on the right rail are getting pushed down. If you can make it into the yellow bar, you're set. Otherwise, your traffic is going to drop on such terms as "insurance".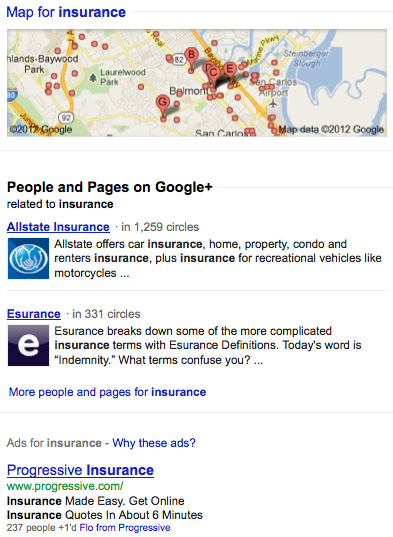 Image of this post © Google.com