I'm a huge fan of social media. Back when I started in online marketing, Facebook was only available to Ivy League Universities (and I was lucky to be part of it all since I went to Stanford). Since then, over the past 8 years, social media has become a driving force in any well-diversified online marketing program. In fact, a good amount of the traffic to PPC Ian comes from social media (especially Facebook, Twitter, and LinkedIn).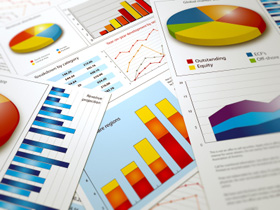 Here's the problem: Especially in a numbers-driven corporate setting, it has been somewhat difficult to measure the impact of social media. Social media is often a top-of-funnel, assisting channel. I'm excited to announce that Google has a solution: Google Analytics Is Adding Social Media Reporting. (You definitely want to read this article.)
I personally feel like this is a game-changer. The new Analytics reports will allow you to measure conversions from social, assists from social, how your social program contributes to your overall business, how users are interacting with social media on your site, and even how users are interacting with you via social media off your site. My tip for the day: Leverage this new feature in Google Analytics to truly understand the value of social media in your business.
Image of Analytics © iStockPhoto – Henrik5000