I have always been obsessed with investments that pay cash flow. I'm talking about investments that pay me regular dividend checks (often in growing amounts) just to hold said companies. There is nothing more exciting in personal finance than when one sees their money working for them, while they sleep!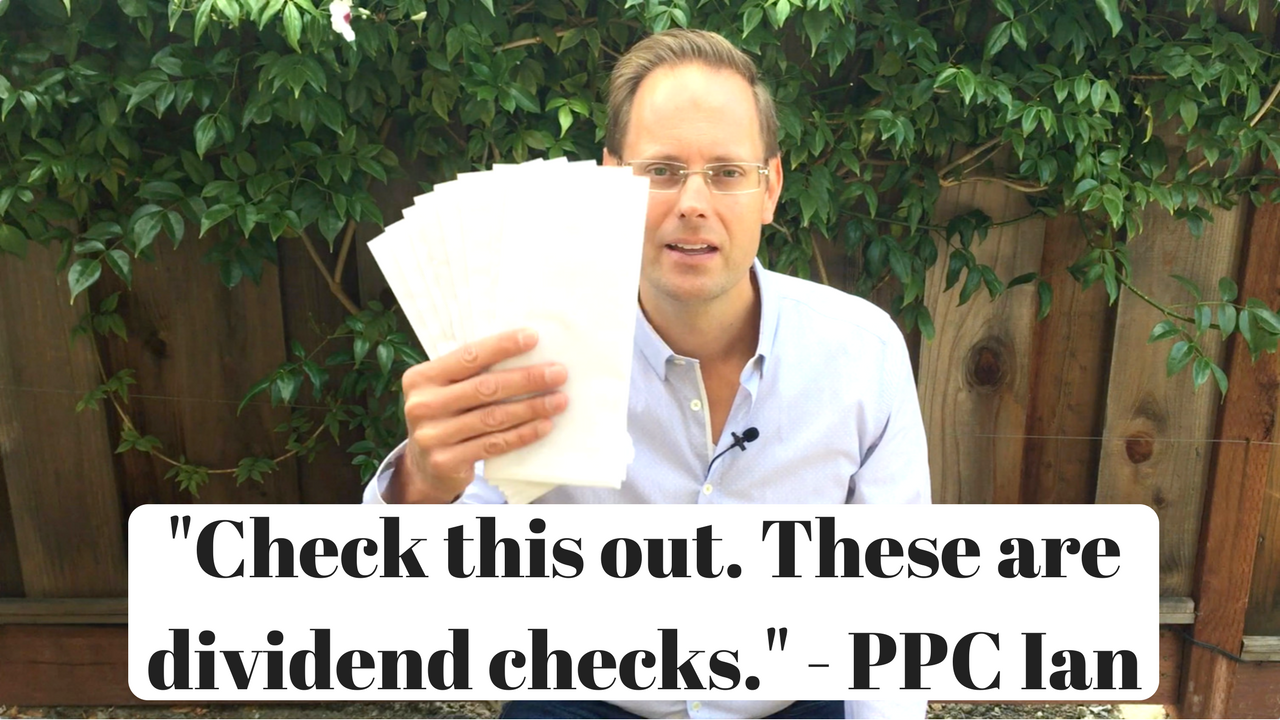 Over the last 20+ years, I have personally built a dividend stock portfolio with over 30 positions in world-class companies. My dividend portfolio is driving an increasing stream of passive income that gets larger with each year that passes. Whether we are in a bull market or bear market, I am always averaging into my favorite dividend-paying stocks, building my stream of passive income.
While my blog, PPC Ian, has roots in digital advertising and careers, I am now also spending considerable time sharing my passion for personal finance online. I have mostly accomplished this via my quickly growing PPC Ian YouTube Channel (now over 2,000 subscribers). However, I also want to start sharing some of my personal finance insights here on my blog too. After all, this blog is a reflection of me. At the end of the day, I think you will find that there are so many parallels between digital marketing and investing.
Today's post introduces my passion for dividend investing. If you've been wondering about dividends and my personal strategy, this post is for you! Also, I'm thrilled to share some of my recent videos too.
What Is A Dividend?
Many publicly-traded companies choose to pay dividends. A dividend is a cash distribution from a company. When one buys stock in a company, they are a part owner in said company. Just for being a part owner, one gets a cut of the profits, in the form of cash dividends. Companies that pay dividends take a portion of their net income and literally distribute it to shareholders. Such companies, in my opinion, are shareholder friendly and truly care about their owners.
Many large blue chip companies, like Procter & Gamble (PG) and Kimberly Clark (KMB), pay dividends on a quarterly schedule. And, they have a track record of increasing dividends each year. This is where the real magic happens: One is handsomely rewarded (via an increasing stream of dividend income) for buying and then holding for years (or even decades) on end.
If one holds their shares in a brokerage account, dividends often show up electronically in one's cash balance, as they are paid out. If one holds stock directly, with a transfer agent, dividends will either be sent in the mail (in the form of a check) or can often be automatically reinvested to buy additional shares of the issuing company.
At the end of the day, dividends are a form of income automation. One can either get a job and work for money (active income) or hold stock and receive dividends for doing nothing (passive income). My journey has been one of saving as much active income as possible and then converting it into passive income. (I save money from my job and then buy dividend-paying stocks, and have been doing so for a very long time.)
While one may think it takes thousands to get started, that's just not true. In fact, I encourage you to check out my recent video about how I literally counted up loose change that was sitting around doing nothing, and converted it into a dividend stream of $30/year in perpetuity! That $30/year will now always be there, and will grow over time – how inspiring!
What Is Financial Freedom?
What is the end goal of all this income automation? At the end of the day, I aim to achieve the holy grail of dividend investing: financial freedom. This is the precise point where my stream of dividend income covers all of my living expenses.
Many dividend investors live extremely frugally and/or play geo arbitrage (they move to locations geographically that are cheaper) to achieve financial freedom quicker. (If expenses go down, it's easier to cover said expenses, as less dividend income is required.) I totally respect everyone in the dividend community, and understand why this route is appealing. That being said, this strategy is just not for me. I enjoy living in the expensive San Francisco Bay Area and also enjoy some fancy things. As such, financial freedom will take me a bit longer than other dividend investors, and I am ok with that.
While financial freedom has the potential to totally change one's life, how do I personally envision my future self? Honestly, not too different from my present self. I still plan on being a family man, blogger/vlogger, commercial real estate developer, digital marketer, and investor (of course). That said, I will likely utilize my freedom to up the bar with our philanthropy, travel a bit more (and cross some destinations off my bucket list), and spend even more time pursuing my passions. I truly believe that one has to stay busy and productive, even once financial freedom is achieved.
At its core, dividend investing is about investing in dividends and not stuff. As mentioned, I do enjoy some of the finer things in life. That said, I also need to keep it in perspective. Financial freedom is goal number one, and I think you'll enjoy my recent video about this very topic.
Which Companies Pay Dividends?
It just so happens that some of the largest, most stable, and most notable brands in the world pay dividends. It's a win-win since such blue chip companies tend to reward investors with dividend income while providing incredible stability. I like to think of it as the "sleep at night" factor. I never lose sleep owning dividend companies because (1) I'm in it for the dividends and not capital appreciation (although capital appreciation is a nice bonus) and (2) I'm confident in the long-term prospects of such companies.
Of course, not all dividend companies are great just because they pay dividends. This is where stock analysis comes into the picture. It's critical to analyze each and every dividend stock candidate thoroughly before it is worthy of buying. That being said, this is the topic of another post, so please stay tuned. (Although, if you want to jump ahead right now, I do have a few videos on my YouTube channel covering fundamental stock analysis in depth.)
In my personal portfolio, I like representation from most major industries and sectors out there. Thankfully, I have found great dividend companies across the board. Following are some of my favorite industries: healthcare, consumer non-cyclical (think: food/beverage and basic goods), industrials, utilities, retail, restaurants, real estate (real estate investment trusts or REITS), technology, energy, transportation, and more.
Also worth noting; Dividends are not just a US-centric thing. Companies from all over the world pay dividends. It's easy to gain international exposure via (1) US firms that do a large percentage of their business overseas and also (2) via ADRs (American Depository Receipts) where foreign-based firms trade on US stock exchanges.
Which Companies Do I Personally Like?
Want some examples? I'm personally buying Kimberly Clark (KMB) and Procter & Gamble (PG) this year. You may be familiar with Kimberly Clark because they produce such amazing brands as Kleenex tissues and Huggies diapers. You may be familiar with Procter & Gamble because they produce Tide detergent and Gillette razors. Their products are literally throughout my entire house (and most houses in America).
I personally like these companies for 2018 because they are core holdings of mine (positions that I love and I see contributing a strong percentage of future dividend income). Moreover, they appear to be "on sale" right now. While I own over 30 stocks, I only buy a handful at any given time (those that are trading at discounted valuations). In other words: While others are running away, I like to buy. I think you'll enjoy my new video highlighting my personal investment themes for 2018, with a focus on acquiring more KMB and PG.
How Can One Get Started?
As with anything in life, it all starts with research and education. I'm a swimmer and a runner. In fact, I just swam 3,000 yards the other day (took about one hour of continuous swimming). The first 500 yards were the hardest, as my muscles felt the most fatigue and strain getting warmed up. Then, as endorphins kicked in, the rest was easy. And, I probably could have gone further, but it's important to pace oneself and conserve power for the next time.
Dividend investing is exactly the same. Those early days will be the most difficult, as one makes mistakes and learns the basics. However, after a while, it becomes reasonably easy. In fact, the biggest challenge experienced by dividend investors is one of patience and persistence. It literally takes decades of converting active income into passive income to reach financial freedom (unless one is starting with a phenomenal base). And, this is why it's important to "pace oneself", just as in my swimming example.
Dividend investing is not a "set it and forget it" strategy. One is not just going to invest a lump sum of money. Rather, it's a strategy of dollar cost averaging over time. One will typically buy stock (in small, bite sized quantities) at regular intervals. Because it's a process, I personally believe it's always best to get started sooner than later.
If one is interested in getting started, I have found that my video on How To Invest $10,000 is particularly helpful. The most popular dividend video on my YouTube channel, it seems like many investors just starting out have $10,000 seed capital. Learn how I would personally invest my first $10,000 if I were starting all over again in the following video.
Of course, it's important to note that I'm just sharing my personal strategy here. I cannot comment on anyone else's situation. At the end of the day, it's important that each dividend investor develop their own, unique strategy. Thanks for reading, and I hope to see you over on my YouTube channel!
Disclosure: I am long Kimberly-Clark (KMB) and Procter & Gamble (PG). I own both of these stocks in my portfolio.
Disclaimer: I'm not a licensed investment advisor. Today's blog post and related videos are just for entertainment and fun. This blog post and related videos are NOT investment advice. Please talk to your licensed investment advisor before making any financial decisions.
All content on my blog YouTube channel is (c) Copyright IJL Productions LLC.