I've been networking with Google like crazy lately, it has been a real blast! Today, I wanted to share some cool pictures with you, in addition to my insights about Google as an organization. In short, Google is on an amazing roll, they are reaching out to clients like never before and it really means a lot to corporate marketing professionals like myself.
Let's Start With The Fun Events
As you can see throughout this post, I enjoyed two amazing Google events within the last few weeks. Highlighted in the first picture, I recently visited Google's Mountain View campus to meet with Kit from the DoubleClick team. As a follow up to my recent speaking engagement at Google, Kit reached out and scheduled a meeting with me for my feedback and insights on some of their new tools. I really enjoyed viewing their new tools and contributing feedback. Our meeting lasted a good hour+ and was super productive. I must say, it was quite the honor! It's not everyday that I get invited to Google for 1-on-1 time regarding their latest products.
Kit was really gracious to treat me to an amazing Google lunch (I can't get enough of their gourmet food). I even got a tour and was amazed to learn Google has a new bowling alley. It's really slick, better than the real thing! Kit and Google/DoubleClick, thanks so much and please don't hesitate to reach out if I can ever be of further assistance.
Also within the last few weeks, I attended the Giants/Marlins game in Google's luxury suite. This event was hosted by none other than Dennis Woodside, Google's President of the Americas. This exclusive C-level executive only event was a true blast and reminded me that I have truly made it big in online marketing. I was able to catch up with old friends from the executive teams of Nextag and Apollo Group (University of Phoenix's in-house onith line marketing agency). I also enjoyed making new friends!
Since the Giants game was an executive only event, I didn't really have the opportunity to take too many pictures with attendees, but I certainly snapped some of the suite and food. I've been to four Giants games in the last year and three have been in luxury suites. (You may wish to check out my recent post about A Day In The Life of PPC Ian where I highlight Marin Software's luxury suite.) Now that I've been spoiled, I never want to go back to regular seats. This is just one more reason I love the corporate online marketing career path so much! Thanks again Google!
Google Is Building Deep Relationships
So, what does this all mean? More so than ever before, Google is building deep relationships with their top advertisers. They have their sights set on the long term and are making impressive relationship investments that will last decades. I commend Google for their strong efforts in this arena because I'm also a long term type of guy. It is all about relationships, at the end of the day.
Now, don't get me wrong, Google has always been focused on client interaction, it's just that they are now going 110 miles per hour versus 100. What does this mean for you, the corporate Internet marketer? Seize the opportunity! Now is your chance to reach out to Google. Now is your chance to get heard! Now is your chance to build relationships that will last forever.
Ask and You Shall Receive
I want to close out today with an important tip that has served me really well: If you truly want something, you need to ask for it in a nice but strong way. How did I get invited to originally speak at Google? How did I get invited to an exclusive C-level executive Giants game with the top executives at Google and in the Bay Area? I asked! Opportunities are all around you. If you remember to ask, you shall receive (most of the time). Even when it comes to promotions/raises at work, it never hurts to ask, as long as you're a top performer. Just remember to always give back and prove your value over and over. Thanks for reading everyone and now go reach out to your Google account management team and start networking!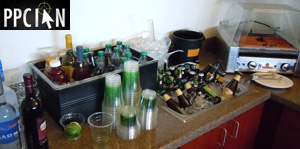 All Images in this post © PPCIan.com