I'm thrilled today to interview one of the top commentators on my blog, Dino Vedo! Dino Vedo is a very popular blogger in the affiliate space, I frequent his daily and have learned numerous affiliate marketing tips from Dino. Above and beyond his blogging expertise, Dino is a full time college student and a young millionaire. Very impressive stuff! It's been a real honor getting to know Dino over the last year, he's a great friend and business partner. I know many of you reading PPC Ian are interested in PPC careers. Dino is someone you'll want to pay close attention to because he can definitely teach you some strategies than can help with your online marketing career. Without further ado, let's get into the interview…
Please tell PPC Ian readers a little bit about yourself

I'm currently a student at University of Michigan and I'm super busy juggling both affiliate marketing and my school work. College life is fun, don't get me wrong, but it can get quite overwhelming when you need to attend clubs, hang out with your friends, study for tests, and then check over your campaigns before you go to sleep! Most of my friends have no idea how to make money online, nor exactly know what I do. Most of them think the only way to make money online is to scam, but as we all know that definitely is not the case. Anyways, I'm studying in the School of Business at U of M, and later plan on transferring maybe to a different University as this will be only my sophomore year and I'd hope to get into a much more prestigious school to finish my studies.
How did you get started in affiliate marketing and blogging?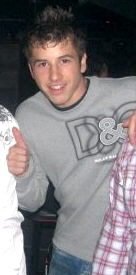 For me, it all began around 3 years ago, when I was just turning 16. My mom encouraged me to start selling stuff on eBay to make some money as I was always asking her for some and apparently she got sick of it. Ha. A good friend of hers was already selling a lot of things on eBay and already was well experienced with how eBay works, and agreed to help me get started. After weeks of selling some of my old stuff around the house, I came to see the huge potential in this and wanted to expand and make a lot more money just like any teenager at that time would. So I ended up going over to Liquidations.com and buying huge amounts of auctions in bulk, such as electronics and video games and who knows what else. On a per item basis, the items were being liquidated for only a few bucks, and I knew I could sell them for maybe double or triple for what I got them for. So that is exactly what I did, and in a few months I quickly became a eBay Power Seller, and before I knew it my basement was turning into a large scale warehouse! At that time, I was making a few thousand per month with minimal work. Sure you had to take pictures of the items and write descriptions and then ship and package them out, but I honestly did not mind as I liked what I was doing and was making good money with it as well.
But of course, after around a year of two of this, all good things came to an end. PayPal had limited my account and froze my funds inside the online account. Not only that but since they work directly with eBay, they had my listings closed, and my eBay account was put on hold. Now why did this happen? My eBay account was in good standing, I had close to 5K in positive feedbacks and close to 98% positive feedback. Well, at that time eBay was going through drastic changes in their policies, and numerous sellers were complaining. If you had an eBay account a few years back, I'm sure you can remember that the eBay feedback system was completely fair. By that I mean the seller and buyer both had the right to leave positive or negative feedback. But that was changed a few weeks before I got in trouble, and the reason, my best guess is (as eBay or PayPal aren't allowed to tell you the reasons..) that I had too many bad reviews or ratings in a short time frame. Sure I was an eBay Power seller, but eBay at that time did not care, or was their system broke? I have no idea but they ended up limiting my account and ruining my business for a good month or two. I was able to get the account back after I had verified that the stuff I was selling was legit and after I sent numerous paper work to prove it.
So problem solved huh? Nope not at all. Since eBay closed my listings, some items were in transit and some were sold and not shipped yet. So what does eBay do for those buyers? They send them a message stating that the seller may have been fraudulent and they are investigating him. Wow thanks eBay right? So imagine what happened, I got even more negative ratings and feedback, some complained they never got their item when they paid, which at the time was true, but there was nothing I could do as PayPal froze my funds and said not to ship anything until the investigation was complete. So my eBay account was in horrible standing afterwards, and I could barely get a sale and ended up giving up after that, enraged at eBay.
As an entrepreneur at heart, I never admit failures, but rather look at them as opportunities to learn or to make something better out of it, and that's truly what happened. I ended up reading about other ways to make money online, read tons of eBooks on various subjects such as internet marketing and blogging. Starting creating websites and products, and before I knew it I was making just as much, if not more than on eBay. Not to mention, it was much easier to do as I had no items to ship, and no customers to deal with! Now it was all just a matter of scaling up, learning more, and trying out different affiliate strategies to get traffic, whether it was paid or through organic searches.
How are you able to balance your coursework in college with Internet marketing?
This is definitely hard and I would be lying if I said anyone can do it. I do believe that anyone can learn internet marketing and make money online, but to attend college and do it at the same time? No definitely not easy to do and you can trust me on that. Being a full time college student and living there is hard to start with, but now add girls, partying, studying, more girls, homework, tests, more girls… alright I think you get it by now and see where I'm getting at.
But yeah, it definitely is hard to do, and I manage it somehow. I'm always in class multi tasking. I think that is the biggest difference from me and another student. I have my laptop whenever I got to class, and I'm always doing something on it, while listening to the instructor. Risky huh? It sure is but I've managed to listen and learn, while optimizing campaigns and reading up on new posts on blogs such as Ian's! So take it from me, it can be done but its hard!
When you graduate, do you plan to get a job or pursue affiliate marketing full time?
I really don't know about this one. I guess whatever happens, happens. I enjoy what I am doing now, so if I get job opportunities that are similar and I see that there's a huge potential in it, I may as well bite. But to say that will happen anytime soon, would be a lie as I see myself being self employed and working from my own home/office for the next few years for sure.
What advice do you have for affiliate marketers in high school or college looking to make it big online?
Perseverance and determination is key in my opinion. I see lots of my friends wanting to do what I do, they start asking me what is best they do first and this and that. I'm a good friend so I tell them what to do and how to do it right. But after a few days of maybe losing money or not making what they hope, they give up and say its impossible and pointless. I think that's the attitude of around 99% or so of everyone who tries to make money online and fails at it. So if you fail, look at what mistakes you made learn from them and try again. If it fails again, reconsider what you are doing and research a better niche or try something else. The opportunities are so vast, that if you give up it truly is no one but your fault.
What are your long term goals?
To make lots and lots of money. That and enjoy the internet lifestyle and all the good things that come with it. I really enjoy networking with people and learning about the successes and failures of others. It truly is the best way to further your understanding of how affiliate marketing really works and how to be successful. I also plan on expanding the niches I am currently in, develop a few authority sites, invest in more domains, create a few products to help people out, and who knows what else…
I also plan on moving out from Michigan as soon as I finish college or transfer. I hate the cold climates and would do anything to be able to live in a place like California, so you can definitely count on seeing me there in 2-3 years. Specifically a city such as San Francisco. I've heard lots of internet marketers are there and there are lots of things to do, both on the entertainment and business side.
What's the future of Internet marketing?
The future is what we all make. Sure some say mobile and some say applications like on Facebook, but who really knows. There could be a shift in the mobile industry that changes it for good, maybe Facebook dies off, or maybe the internet and SEO changes? Most would say yeah sure, but if you look just a year or so ago, everyone was on Myspace and it was huge. Now in only a year, Facebook is bigger than Myspace and even bigger than Google in traffic. Would anyone have guessed this? So the future is really in our hands, and is truly what we make of it. With that, be the future and create something that will change it. I'm sure there is money to be made in that…
Check Out Dino Vedo's Blog
Dino, awesome interview! Thanks so much. I thoroughly enjoyed the interview, you've got some amazing stories, accomplishments, and true value to share with the online marketing community. PPC Ian readers, you'll definitely want to check out Dino Vedo's affiliate blog.
Images in this post © DinoVedo.com