Are you a values-driven business professional? Following are some of my favorite core values, those of a true leader in business. The values-driven business professional: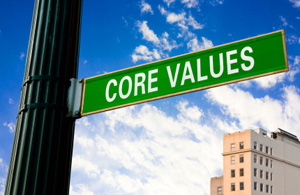 Arrives on-time or early.
Has a positive attitude.
Strives to help others – co-workers, business partners, clients, everyone.
Truly believes in their company, and is a proud member of the team.
Is willing to do any task, no matter how small.
Sees someone in the lobby at their office and goes out of the way to help that person, even when already in a rush.
Avoids complaining, no matter what the circumstance.
Stays late and works long hours.
Creates opportunities for others.
Celebrates the success of others.
Finds new opportunities to grow the business.
Uplifts others and finds ways to motivate.
Is a fearless leader.
Drives stellar results without taking shortcuts.
Has an unbelievable level of focus and execution.
Thinks about the short-term and the long-term.
Takes a stand when something is being done incorrectly, or could be done better.
Does the right thing.
Never gives up, no matter how difficult it gets.
Thinks about their job all the time.
Constantly thinks about ways to improve and grow.
Commits to their employer for the long-run, stays the course and drives long-lasting results that take years to build.
Treats their team like family.
Rewards those on their team.
Places trust in others.
Writes everything down so nothing gets forgotten.
Enjoys and thrives in a state of challenge.
Portrays an incredibly positive image of their company.
Is trust worthy.
Checks their work email 24/7, and responds right away.
Finds ways to help others each and every day.
Looks for the best in others in an objective manner, even during challenging times. Sees situations from all perspectives.
Admits when they are wrong, proactively apologizes to others when they make a mistake.
Is not afraid of failure. Learns from their mistakes and shares their own lessons with others.
Truly loves what they do!
Is an "iconic" brand/leader in their industry and at their company, not because of self-promotion but because of what they have accomplished.
Image of Core Values © iStockPhoto – cosmonaut