A strong percentage of my readers arrive at PPC Ian via social media. An even greater percentage arrive via organic search, which is boosted and reinforced by my social media strategy (Google and other search engines value social citations). Social media is not just about gaining a lot of followers. It's about engaging your audience, and providing your followers true value. In doing so, social media can become one of your strongest sources of traffic, a defensible channel, and a way of diversifying risk.
Today, I want to share how I personally engage my social media audience. The calendar below is a work in progress and continues to evolve. In fact, social media engagement is a huge area of focus for me right now, so I'm writing this blog post as much for myself as for all of you. Follow me in social media to see the below strategy unfold in real time!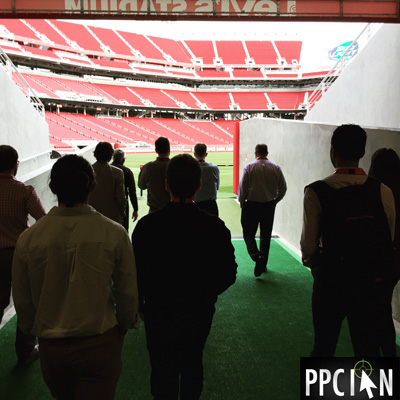 Before I dive into my strategy, I wanted to share a fundamental belief of mine: Each social media network is completely different than the next. Therefore, each requires a unique strategy. Of course, there will always be what I like to call "overrides", those campaigns that transcend all social media networks. However, on a day-to-day basis, I like to cater to each network differently, therefore requiring a unique strategy for each. I try not to link my networks together.
With over 10,500 followers, Twitter is the cornerstone of my social media strategy. As an early adopter, I'm really thankful for such a strong following on Twitter and the traffic it provides to my blog.
My content strategy on Twitter typically involves a post every single day, and often multiple per day. While audiences on some of the other platforms, such as Facebook, may get overwhelmed with new posts every single day, Twitter can certainly sustain more frequent updates.
While my content schedule varies a bit week-to-week, my calendar typically involves the following Tweets:
A link into my latest PPC Ian blog post (I typically post these late on Sunday nights, on a weekly cadence).
A mid-week link to my latest blog post again, for those that did not see the first Tweet earlier in the week.
Throwback Thursday links into historically popular PPC Ian blog posts. Each blog post takes so much time and effort, and why not rejuvenate posts from the past?
A motivational quote (just text, no image) from yours truly. I like to pepper these in to empower those following.
Links into my latest digital marketing definitions (see Tumblr below).
Links into guest blog posts I have written for other blogs.
Live Tweeting (both text and images) at digital marketing conferences.
Retweets of great articles. I use these sparingly, as I like most of my content to be original.
@ messages to friends in the digital marketing community, it's fun to spark public conversation on Twitter, and helps those following find others of interest.
People are typically on Facebook to connect with friends and family. They are not as interested in consuming digital marketing and business content, from my experience. However, if you make the content truly great and engaging, Facebook can drive a ton of traffic to your site. Moreover, it's the perfect social media platform to gain support from your personal network.
Due to my sensitivity for over-posting on Facebook, my content calendar is much more sparse than Twitter. I'll typically do the following:
Link into my latest blog post on Sunday nights. Put some paid "boost" budget behind my best posts, making sure the boost goes all the way through Monday. It's amazing how much extra engagement this investment can drive and it's totally worth it, in my opinion.
Throwback Thursday posts on Thursdays. Sometimes I'll miss a week.
Links into guest blog post I have written on other blogs.
Q&A for anyone in my community who has a question for PPC Ian! I really like Facebook for this purpose because you can easily write long-form responses, and everyone in the community benefits.
As a professional network and my personal online resume, I approach LinkedIn with incredible seriousness. While I see others posting new articles, links, and content to LinkedIn daily, I have opted for a different approach.
I'm exclusively posting new PPC Ian blog posts right now, with a cadence of once per week. Sometimes I'm experimenting with Throwback Thursday, but with a much more conservative cadence than other networks.
In the future, I will probably start experimenting with LinkedIn-specific posts. So far, I have had a difficult time rationalizing posting on LinkedIn vs. my own blog. And, I'm skeptical about reposting content to LinkedIn that already has a home on my blog. My future strategy involves writing pillar content that has an exclusive home on LinkedIn, a few times each year. Again, my LinkedIn strategy is all around my online resume, and incredible quality. I don't need high frequency on LinkedIn.
Because Google+ is owned by Google, I know that anything posted on Google+ is likely to be indexed by Google quickly. As a result, I'm always posting new (and old) blog posts on Google+. Basically, anything I'd post on Twitter, I'll also post on Google+.
My belief is that most Google+ users are more sporadic about their use. Perhaps they login a few times each week. While we are all on Facebook, Twitter, and LinkedIn all day every day, Google+ usage is infrequent. As a result, I'm not overly concerned with too much posting. If I have something to post, especially something that I want Google to find, I'll do it!
My Google+ strategy does not involve much interaction with others. Since I don't have as many connections on Google+, it's more of a stream of updates from my end.
If there is one social media network that doesn't have as clear of a strategy in my overall content calendar, it would be Google+. That said, as Google+ gains popularity over time, I'm sure my own strategy will evolve.
I'm a tremendous fan of the Instagram platform and community. My strategy is simple: I post one new photo each day and also comment on someone else's photo each day. As mentioned before, each network requires a unique strategy. My photos are typically unique to Instagram, and give consumers a reason to follow me on Instagram to gain access to my photo stream.
To add great value, I always include helpful captions with my photos that bring it all back to digital marketing. Hashtags are a big part of my strategy too.
Instagram is a real community that supports each another and I'm careful to weave that into my overall strategy.
I'm newer to Pinterest and have a few boards. The overall hub of my strategy involves pinning my new posts on PPC Ian.
Also, I spend a few minutes each week adding pins to some of my other boards, all related to digital marketing. I especially enjoy adding pins to my boards about digital marketing leaders, digital marketing conferences, and digital marketing companies. Rather than re-pinning content that already exists on Pinterest, I try to bring unique, new content to the community.
I'm a big fan of Tumblr because it's so easy to publish short blog posts. A few years back, I wanted to start this Digital Marketing Dictionary. I wanted to post definitions of common terms. These definitions would be short and simple, yet incredibly helpful to the digital marketing community. I knew these would be too short for my blog. An idea was born: Create my Digital Marketing Dictionary on Tumblr.
These days, I'm posting on Tumblr several times a week. Each post defines a different digital marketing term. My Tumblr strategy is really unique and has helped me steadily secure more and more followers.
I will sometimes link into my Tumblr definitions from Twitter and Google+, giving more exposure to my dictionary.
I don't hear as much about Quora these days, but continue to see huge value on this question-and-answer platform. In fact, my personal answers have received 959 views in the last 30 days and 19,264 all time. That's a lot of views, and a lot of opportunities to connect with new readers! That's also a lot of opportunity to empower other digital marketers and businesspeople, the charter of my blog.
While I let my commitment on Quora slide over the last year, I'm taking this network very seriously again. My strategy going forward: I will answer one question per week. I will write very in-depth answers, those that truly add value.
Others
Since this post is more geared towards my recurring/weekly content calendar, I did not include YouTube. YouTube is more about long-form content, epic videos. While YouTube is not part of my weekly content calendar, it's certainly a platform that is part of my overall content strategy. Historically, I have included videos from speaking events and also occasionally some more impromptu videos.
The social media platforms outlined above encompass the majority of my PPC Ian social media strategy. However, I'm always expanding and have obviously missed some of the big ones. What about Snapchat, for example? As defined in my recent post, An App A Week, I'm actively learning (I mean really learning) a new app every single week. You can bet that many of these apps have a social media angle to them, and that they'll get folded into my social media content calendar in their own, unique way!
Also, while it's not considered a social media network, I try to comment on other blogs from time-to-time. Many think blog commentating as a strategy doesn't work anymore. That is very far from the truth, I get a lot of traffic by leaving valuable comments.
In the world of digital marketing, it's not only about great strategy, but also about great execution. In your own business, craft a social media calendar that is ambitious, yet also actionable.
I'm going to leave you with one more closing thought: Please, please don't outsource your social media to a virtual assistant! Speak with your own, authentic voice. Add true value. Post at a rate that is realistic and scalable. I see some high-profile bloggers and businesses fall into this outsourcing and automation trap. They are posting continuous updates across all of their social media profiles 24 hours a day, 7 days a week. They are reposting so many articles that I don't even know if they read them all. While automation and outsourcing has its time and place in your digital marketing strategy, I recommend approaching social media with your own authentic self. This is where you can truly build long-lasting relationships.