Anyone who has known me for a while knows that I'm a huge fan of investing. I'm a proponent of stocks, bonds, 401ks, real estate, and of course domain names. Over the long term, investing is the primary way you can get ahead and achieve financial freedom. Today, I'm excited to present a unique domaining strategy that is not only an investment in itself, but is also a way to add equity to the investment you made in your condo. Let's talk all about buying and developing domain names relevant to your condo complex.
My Wife and I Purchased a Condo Just Over A Year Ago
To provide some context, I'd like to first highlight my personal story. Just over a year ago, my beautiful wife and I purchased our first home, a condo on the San Francisco peninsula. We absolutely love being homeowners from two perspectives. First, we enjoy the high quality of life, amenities, pride of ownership, and of course the ability to make improvements to our home. Second, we are huge believers in the investment value of real estate. One day, we hope to fully pay off our mortgage, putting us one step closer to financial freedom. Moreover, we're contemplating the idea of renting our condo out one day when we move into our next home.
Real Estate Prices Are Down In This Bad Economy
While we got a great deal on our place, especially since we purchased after the market fell, there's no doubt that today's real estate market is a bit crazy. Not only are prices down, but homes are sitting on the market longer before selling. In this type of market, it's important to do whatever it takes to make your condo and your condo complex more desirable than the next.
Historically, sellers have achieved that extra appeal by upgrading their kitchens and bathrooms, adding wood floors, and investing in a fresh coat of paint. For all you domainers out there, I'd also like to propose that you create equity value for your condo and condo complex by developing a condo domain name.
Domain Names Add Equity Value To Your Condo Complex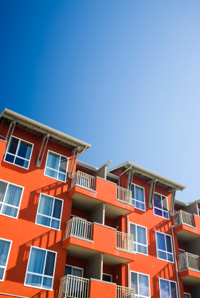 The following idea is really simple, yet extremely powerful in my opinion. Many condo complexes that were built more than five years ago have absolutely zero web presence. Our condo complex was built about 10 years ago. Even though it's relatively large and has over 100 units, the only information online exists on those big real estate aggregator websites. As a domainer, I went ahead and registered our condo complex's domain name today with the intent of building out a site with the following features:
General information about condo complex
Pictures highlighting our complex's beauty
Perhaps a few videos
A contact form where I can respond to inquiries about our complex, or at least direct them to the appropriate party
Perhaps some information highlighting recent sales and also real estate agents in our area (Later I could charge agents a small advertisement fee)
In my opinion, this site will add immediate equity value to all homeowners in our complex. It will create a name for our condo complex and make it memorable for buyers searching on the web. Buyers will now have an added reference point that showcases our condo complex as the premier luxury development in the area (as opposed to all the other complexes that have no web presence).
Two Exit Strategies For Your Condo Domain
I wanted to highlight two great exit strategies for your new condo domain. If you're like my wife and I, you hope to rent out your condo one day when you move on to your next condo or single family house. If you already have a great domain ranking for your condo complex, you'll have a great head start in getting leads for possible renters.
As another exit strategy, you could always sell your domain to a local real estate agent. Agents these days need clients more than ever and I'm sure they'd be super happy to leverage your condo domain as a way to generate more leads.
Consider Domain Names For Other Condo Complexes As Well
Here's the crazy part: I had to register the dot net TLD (top level domain) because the dot com was already taken. Moreover, as I started to look for other condo complexes in our area, many of the dot coms were taken but not all. A For the entrepreneurial domainer, one great strategy might be buying up the names of condo complexes and then approaching the respective HOAs with a two tiered business plan: (1) Sell them the domain name, and (2) develop a website for them that adds equity value to their complex (of course, show examples of your work).
To close out, I wanted to wish you a happy new year and all the success in the world in 2010! I brainstorm new domaining business ideas regularly and am looking forward to sharing more of my strategies with you in 2010.
Important Disclaimer: Please make sure to check the USPTO to see if your condo name is a trademark before registering any domains. I highly discourage registering trademarked names.
Image of Condo Complex © iStockPhoto – ranplett