The online marketing career path is an intense one. There's no doubt about it! It's a career that involves true dedication, long hours, and an unbelievable level of responsibility. Of course, with intensity comes true opportunity and rewards. I wouldn't want to be in any other career than this one!
Recently, my friend PPCknight asked some really great questions about achieving balance and longevity in one's PPC career. Google AdWords and Bing Ads are 24/7 marketplaces. When you're working long hours and have so much responsibility, are there any hacks and optimizations to make things a bit easier? Today's post is all about achieving balance in your PPC career. From someone who's thrived over the long run (8+ years in this great industry), I hope the following tips help!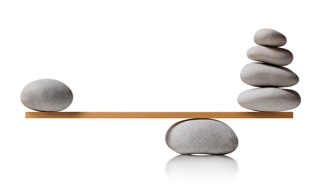 Rely on your team. Paid search is a true 24/7 marketplace. It's like Wall Street, except trading never stops. It's impossible to work 24 hours a day, 7 days a week. As such, it's all about covering for each other. PPC is not a one-person sport, it's all about working as a team. If you do not have budget to hire a team internally, check out some of the tips below.
Rely on your agency. Do you have an SEM agency? I recommend looking into SEM agencies, even if you have an in-house team. SEM agencies are always on call and can help you out 24/7 when you are in a true pinch.
Hire help on oDesk. If you don't have budget to hire an internal team, you can always consider getting help on oDesk (or another outsourced marketplace such as Trada). The more talent on your side, the more you can divide the work and function as a true team!
View your search engine reps as an extension of your team. Search engine reps are amazing. Yahoo! and also Google are truly going above and beyond these days. They keep upping their game, and if you ever need help with anything, make sure to relay on your search engine reps.
Hire interns. The theme of this tip ties into the last few. It's all about building out that team.
Automate and improve manual tasks with SEM software. I'm a huge fan of SEM automation platforms such as Kenshoo and InsideVault. Not only can they be huge time savers but they can also take your SEM operations to the next level. If you're not using an SEM platform, chances are you will be working much longer hours for the same (or worse) results.
Get smarter and more efficient. Are there any tasks you work on that can be crossed off the list? Are there any components of your day that are consuming extra time? Sometimes it all comes down to efficiency. The advanced online marketing professional is looking for ways each and every day to improve efficiency.
Consider changing your location. In the world of SEM, it's all about productivity. Don't just sit at your desk all day. Visit Starbucks, travel between your offices (if your company has multiple offices), break up the days with work/meetings, and make sure to enjoy industry conferences. The more you break things up, the ore productive you will be.
Remember to take time off. I'm talking about vacations, staycations, and random days off here and there. It's super important to recharge your batteries in the world of SEM. If you forget to take time off, you will not last the test of time.
Avoid making changes on Fridays and weekends. Also, avoid making too many major changes at one time. SEM can be quite unpredictable when you are not able to watch changes closely. Make sure to phase tests and changes for maximum ease of management.
Work at a world-class company. I cannot stress this point enough. SEM is so much more fun and powerful when you have an incredible product and team behind your marketing. It's so much more fun and exciting to market a product that truly changes lives. Get behind something great! Marketing is difficult. Make sure to stack the cards in your favor as much as possible by picking a world-class organization.
Focus on your health. It's all about exercising, eating well, and getting enough rest. If you push yourself too hard, you will not stand the test of time in the PPC industry. You have to pace yourself, it's a marathon and not a sprint. Bonus tip: If you're ill, make sure to stay home and get proper rest.
Love what you do. PPC is an intense career path so you've got to love it. Make sure to do a sanity check from time to time, make sure you love what you're doing.
Image of Balance © iStockPhoto – malerapaso