The way I approach social media has truly transformed. I now feel like a social media giant, thanks to an amazing platform called Buffer. Today, I wanted to share my review of how I'm personally leveraging Buffer.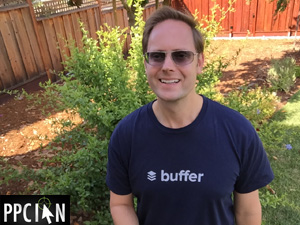 Before we get started, what is Buffer? Simply put: Buffer is an at-scale social media content publishing platform. Buffer allows you to publish amazing content across many social media accounts, all in one convenient location. Here's how I personally utilize Buffer…
1. I Leverage Buffer To Manage 25 (and Growing) Profiles In One Place
In my current role, my team is incredibly lean. At the same time, as a local, store-based business, my marketing program involves a ton of social media profiles. As a digital marketer with 12 years experience, I can't settle for anything but the best. Unfortunately, I ran into a brick wall when attempting to manage 25 social media profiles manually.
Enter Buffer. Buffer allows me to manage my 25 profiles in one place. Whether on my laptop or my iPhone, Buffer is seamless and just plain easy. The platform saves me huge time and makes the impossible finally possible. As my portfolio of social profiles grows, I know I can count on Buffer for scale.
2. I Leverage Buffer To Optimize My Time
As a professional that likes to allocate large chunks of time to projects in a single sitting, social media has always been a challenge. Logging in/out of accounts and spending 15 minutes here and there has never been fun nor efficient.
At the core of Buffer is an amazing machine learning algorithm. I'm now able to sit down for one or two hours at a time, loading Buffer with great content. Then, I let Buffer decide when to post the content. Buffer learns over time, posting at the times that are most likely to drive business results. Further, Buffer monitors my own posting schedule and stretches out posts during times when I'm less active. Buffer has turned my social media content creation sessions into pure productivity.
3. I Leverage Buffer To Collaborate
As my team expands, I want everyone involved in social media. Thankfully, Buffer offers the ability to have multiple users. And, Buffer offers multiple access levels. I'm a manager so my posts go right into the queue. However, some of my team members are contributors so their posts must be approved by me prior go going live.
Moreover, I'm now scheduling brainstorming sessions across the company. Buffer offers an amazing reason to sit down with a colleague and write copy. We can load the copy directly into Buffer while the ideas are fresh and let Buffer decide when it's best to push our content live. Buffer has increased my ability to collaborate across the entire company.
4. I Leverage Buffer For Amazing Social Media Graphics
Some of the best social media posts include fresh graphics. Unfortunately, such graphics can be time-consuming to create in Photoshop or very expensive when created by a designer. Thankfully, Buffer offers a platform within a platform called Pablo. Pablo makes it simple to create some of the most effective social media graphics ever, on the fly.
5. I Leverage Buffer For Analytics
At the end of the day, all of us digital marketers are responsible for results. We are data-driven marketers and must push the needle forward. We thrive on great results. Thankfully, Buffer offers advanced analytics within the core platform. Now, I can see, in real time, the results of my campaigns. And, Buffer makes it really easy to share those results with my entire company.
Beyond the platform itself, I have had such a positive experience with everyone at the Buffer team. I want to take this opportunity to sincerely thank Buffer for making me feel like a social media giant. I look forward to growing my social media program with Buffer as my partner every step of the way.
Image of PPC Ian © PPCIan.com