If you're in the corporate PPC world, you definitely know that things can get rather crazy. After enough analysis, keyword generation, keyword deployment, bid changes, ad copy tests, landing page tests, account restructures, product requirements, and executive presentations, your head can really start spinning! I'm here to tell you that it's all about PPC longevity. After all, longevity has been one of the cornerstones of my early success in the corporate pay per click world. Today, I'd like to take a step back and discuss ways of breaking up the PPC daily grind. Whether you're an associate or director, I strongly encourage you to take these tips seriously. At the end of the day, they will only increase your employee retention and team morale!
Tip 1: Attend Search Engine Marketing Conferences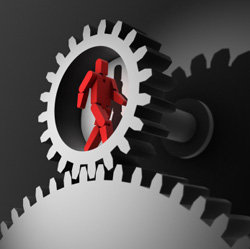 Search engine marketing conferences have been extremely good to me over the years. They're incredibly beneficial from two angles: First and foremost, conferences present the ultimate networking experience. As someone with well over 500 connections on LinkedIn and a big binder of business cards at home, I cannot say enough about the power of networking. At the end of the day, people are everything in terms of finding long term success in your corporate pay per click career.
Second, conferences are extremely worthwhile in terms of staying up with current trends and sparking innovation. The natural tendency in PPC is to think you know it all. Well, at least that's my natural tendency. The problem, however, is that things change extremely fast. Even if you know everything today, you won't necessarily know it all tomorrow. Even if you're consistently innovating and driving the direction of the industry, a great speaker can totally spark new ideas.
Directors, managers, and team leads: My overall suggestion here is that you get your team full passes to the major conferences such as Search Engine Strategies (SES), Search Marketing Expo (SMX), and ad:tech. I've been at companies in the past that have unfortunately been cheap about getting full passes. I definitely suggest pushing for full passes. It's an extremely small investment in your team's education and morale, one that will pay huge long-term dividends. From my personal experience, I always come back from conferences extremely energized, full of new ideas, and ready to go! Thinking about things through that lens, conferences are the ideal way to break up the daily PPC grind.
Tip 2: Enjoy PPC Team Activities
I like to compare pay per click campaign managers to Wall Street traders. We're in the details of a very competitive and focused trade. For that reason, we often forget to take a step back and get away from the computer. From my experience, team activities are always a very welcome break from day to day campaign management. Moreover, the bonds formed during team activities can directly improve teamwork within the office.
My suggestion: Plan a team activity at least once very six months and ideally once per quarter. Some great examples include go-karting, miniature golfing, and bowling. I particularly like team functions that involve actual activity because we're typically at the computer for so much for our day. The key here is that the team activity is held during the workday and that it concludes right around the time people typically leave the office. That way, the team activity functions as a true reward. Also, team activities are always more rewarding if the company pays for them!
Tip 3: Schedule Regular PPC Team Lunches
This tip is very similar to the last one, but I suggest an increased frequency of perhaps once per month. It's too easy to rush out of the office and grab a quick lunch, only to come back and start working again right away. From my experience, the time savings from a quick lunch does not add any value. If you actually break up the workday and increase the "fun" factor, the entire team gains immense productivity. For that reason, I highly suggest having PPC team lunches to celebrate milestones, birthdays, or really any reason at all. Another great idea: Invite members of other teams as well, it's a great way to learn something new!
Tip 4: Proactively Assist Other Departments
One of my absolute favorite things about pay per click search engine marketing is the fact that we're in the center of it all. PPC is an operationally intensive role, one that involves useful data. For that reason, I enjoy thinking about proactive ways to assist other departments. Some simple examples: Share your PPC keyword list with the SEO team, share your top ads with the design team, send competitive benchmarks to the partnership team. At the end of the day, there exists a plethora of ways you can directly help your coworkers in other departments. Not only will this break up your day a bit, but it will help your overall organization grow. Moreover, I truly believe that the more you give, the more you receive. Next time you need help from someone else, you can rest assured that help will be available immediately.
Tip 5: Give Back To The Paid Search Community
I created this blog to give back. I regularly enjoy acting as a reference for old reports. I thoroughly enjoy writing letters of recommendation. At the end of the day, it's all about giving back in my opinion. The best managers in the world are your manager for life. It doesn't matter if you're at a different company. If someone's a great manager, they will always support and invest in your career. This is how I view management. Unfortunately, this is against the grain of many managers out there.
My strong advice: Invest in old reports and co-workers. I've found this to be a very powerful way to help the community while breaking up my day a bit. Like I said in the last tip: The more you give, the more you will receive. Corporate PPC is a very small but rapidly growing community. Give back today and make a real difference, while keeping things fun and interesting.
Image of Daily Grind © iStockPhoto – BeholdingEye