I just wrote a guest post called Advanced Trademark Strategies For Large AdWords Advertisers on Acquisio's blog. What is Acquisio? It's the performance marketing platform of choice for large online advertising agencies.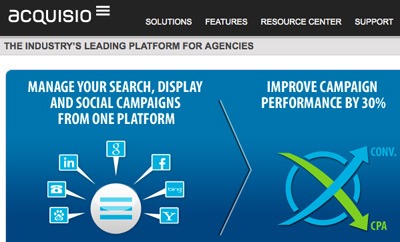 When presented with the great opportunity to write a guest post, I opted to go with a highly tactical post for large online advertisers. Upon brainstorming a few topics, I narrowed in on trademarks, specifically your own brand name. When you're a large advertiser, your own brand name is often one of your most profitable and important keywords. With such profitability and scale comes a ton of responsibility. Despite its importance, however, I feel like brand names are often placed on a "set it and forget it" mode. My post is meant to spark some creativity and excitement in taking your own brand name campaigns to the next level. Complete with 5 advanced tips, I encourage you to head on over to Acquisio's blog today and check out my guest post. I put a lot of effort into this guest post, so I hope you enjoy it. Also, make sure to arrange a free demo today with Acquisio. They offer one of the most amazing SEM platforms around and are the platform of choice for SEM agencies. Thanks, Acquisio, for the opportunity to guest post!
Image in this post © Acquisio
Posted in: Campaign Tips | Tags: acquisio, trademark | Comments: Be the first person to comment!