I'm a huge fan of Epik. I've been blogging about Epik here on PPC Ian for a while. After all, it's my favorite web develop platform for product-oriented domains. Currently, I own 55 developed websites on the Epik platform. Today, I'm going to talk about Epik's brand new Product Portal platform, version 3.0, and also some cool stats about my recent earnings spike! First, however, I wanted to link to my past few posts about Epik as they will provide you some great background around this sweet platform:
Epik Product Portal 3.0 Rocks
Now that you know a bit about Epik, I'd like to share some of my favorite features of Product Portal version 3.0. At the bottom of this post, you'll see a screenshot of my Epik website Motorbike Jacket. As you can see, the site is really slick. Websites on Epik's new platform are simply stunning. This is great from two perspectives: First, as an owner, I have serious pride of ownership. Second, my sites are converting better than ever (users love the new look and feel).
Aside from looking really great, Epik's new platform is more SEO-optimized than ever. It's all about content. Anyone reading PPC Ian can appreciate that. I've been adding quality, helpful content to my Epik Product Portals (and all my websites) from day one. As a result, search engines have rewarded me handsomely. Epik's new platform makes it easier than ever before to add articles and place them in really prominent positions on your site. Want to learn even more? I recommend checking out Epik's Product Portal 3.0 Announcement.
My Earnings are Up 5.6 Times
When I look at my Epik earnings from the past week (as compared to 4 weeks ago), my earnings are up 5.6 fold. Now, one reason I'm doing well is I own some seasonal domains that do well in the summer time such as Outdoor Sofas. However, the majority of my gains are due to Epik's new platform. Not only am I getting more visitors but also my visitors are converting better than ever. Product Portal 3.0 (especially when the developer adds tons of great, custom content like myself) is very SEO-optimized.
My end conclusion: WordPress is the ideal platform for building a blog. The Epik Product Portal platform, in my opinion, is the WordPress of commerce-oriented domain names. If you're looking to develop commerce-oriented domains, you've got to give Epik a try. And, don't forget my special coupon code for 10% off your entire order (PPCIAN10).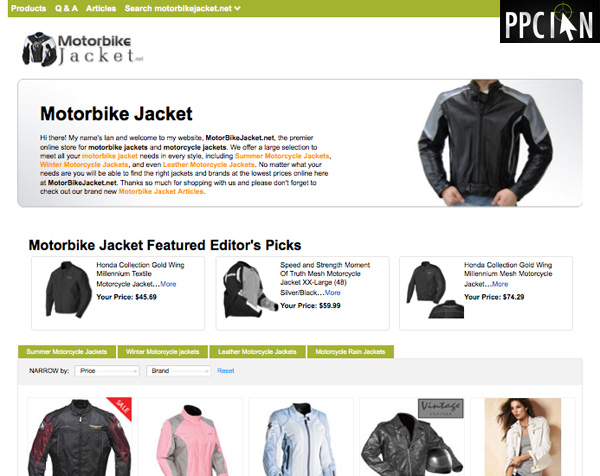 Image in this post © PPCIan.com