I'm just going to warn you up front, today's post totally rocks! Not only am I going to present an exclusive Epik Product Portal SEO tip that has been working wonders on my extensive portfolio of 55 Epik sites, but I'm also going to share a special Epik Product Portal coupon code only for PPC Ian readers. That's right, I negotiated this special coupon code with the man himself, Rob Monster (CEO of Epik), as a favor for PPC Ian readers.
I Invested $10,000+ In My Epik Product Portals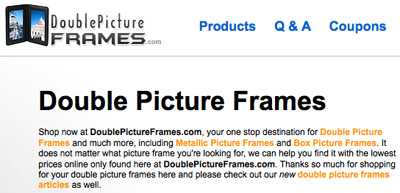 So, first of all, what the heck are Epik Product Portals? Epik is basically the WordPress of product comparison shopping sites. It's an amazing platform that empowers owners of high quality product domains to build out amazing websites that drive extensive value for the user while providing outstanding monetization for the domain owner. Want to learn more? Check out my post about my personal Epik Product Portal websites and then my post about my Epik Development Tips. I'm so confident in Epik that I made a substantial $10,000+ investment in my personal Epik Product Portfolio websites in 2010 and I continue to invest this year. This is my very hard earned money, on the line!
My Epik Product Portal SEO Tips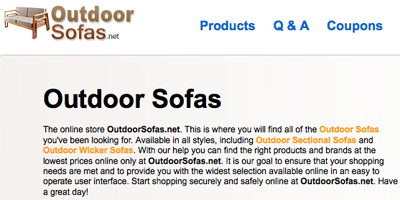 So, as part one of today's post, I wanted to provide a quick and actionable SEO tip for all you Epik developers out there (and Epik developers to be). Since I own 55 Epik Product Portals, I've experienced the excitement of testing many different SEO strategies across my portfolio of sites. Over the last few months, a clear winning strategy has emerged and that's the strategy I'm going to share with you today! That said, results vary and I never recommend going with just one strategy. It's important to test, test, test and want to underscore that this is just one winning strategy and there are others out there.
First, let's look at a brand new Epik website. When you get a brand new site developed by Epik, it comes complete with everything (and I mean everything) you need for success. In fact, these off-the-shelf sites will do very well with zero modifications. Today, however, I wanted to show some ways to supercharge your Epik sites (for exponential returns). An example of an off-the-shelf Epik site? Check out my brand new site Outdoor Sofas. Key things to note:
There are no articles (yet).
The blurbs are the same at the top of each page. Check out the homepage versus the outdoor sectional sofas page.
The keyword outdoor sofas in the top blurb refers to a sub-page by the same name and not the homepage, the root domain.
Now, let's contrast that with my supercharged Epik Product Portal, Double Picture Frames. Some key things to note on my supercharged site:
There are two articles (and more in the pipeline). An example: double picture frames ideas. Exciting note: Epik provides amazing packages to assist with article creation. They will even upload articles (you write on your own or via their own team).
I link to the articles page in the blurb at the top of the homepage. Even though articles are direct linked on all pages Epik Product Portal sites, this extra link to the articles page in my homepage blurb helps search engines find (and weight) my custom, high quality articles. Remember: Content is king! Get credit for that content by linking to it.
I link back to the homepage with the keyword double picture frames from within my articles (but am careful to not overdo it). This helps add authority to my high quality exact match domain name and tells the search engines what my site is all about.
Instead of linking to a sub-page, the keyword double picture frames within my main blurb on the homepage links right back to the homepage. Like the links within the articles, this helps reinforce the exact match domain name with search engines. That said, be careful to not overdo it. It's a balancing act.
I write custom blurbs for every page of my site. For example, check out my metallic picture frames page. It's different than the homepage and is optimized for these special metallic picture frames. Within these sub-pages, I sometimes link back to the same sub-page with the topical theme of the page as anchor text. These recursive links help tell search engines what your page is all about, although I don't use this strategy on all my sites. I vary it a bit, and don't like to follow a fixed template all the time.
So, there you have it! I am very confident that if you employ these simple tips on your current (or soon to be) Epik sites, you will experience great returns! At the end of the day, these tips are all about adding quality content (content that users will read and enjoy is always king).
PPC Ian's Exclusive Epik Product Portal Coupon Code (PPCIAN10)
Now, the real fun! So I'm personal friends with Rob Monster, CEO of Epik. Rob is a serial entrepreneur, business leader, and overall genius within technology. He's someone I definitely look up to because I'm personally trying to achieve fame in the corporate world of online marketing. You would think with his background that Rob wouldn't have time to talk to individual Epik developers. That couldn't be further from the case! I can't get over the fact that Rob (and his entire team) always goes above and beyond to assist individual Epik developers with their questions and ideas, even though Epik has grown into a large company.
Anyways, I asked Rob if I could get a special coupon code for you guys and I was successful. Here's the coupon code: PPCIAN10 – Enter this coupon code when making your purchase at Epik and you'll receive a 10% discount off your entire order. (Here's a link to the Epik website.)
Make sure to mention that you're a PPC Ian reader and the Epik team will give you the red carpet treatment for sure! Whether you're a current Epik developer or a new one, I highly recommend taking advantage of this coupon code. If you're new to Epik, why not start small? Epik Product Portals start at $249, and only $224.10 with the PPC Ian discount. As an online marketing professional, it's my opinion that you cannot afford to miss this opportunity. Of course, if you have any questions, please feel free to post them here on PPC Ian! I'm looking forward to some Epik discussion.
All images in this post © IJL Productions LLC