I'm a huge fan of beta testing. If you're a large spending advertiser on Google AdWords, Bing Ads, or both, you probably have had (or will have) opportunities to get involved in beta tests. What are beta tests? They offer the opportunity to help search engines by testing brand new features before they get released to the public.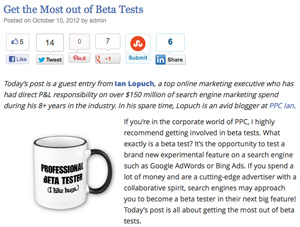 I have developed an entire strategy around beta testing and am thrilled that my good friends over at PPC Associates ran my guest post today about Getting The Most Out of Beta Tests. This post covers the basics of why beta tests are great and then goes into six specific beta test tips. The tips cover beta testing strategy and how to achieve the best possible results (both in the short run and long run). Moreover, the post covers ways to give back to search engines so you continue to get invited to exciting beta tests. I highly recommend checking out the post, it's one of my best guest posts (in my opinion).
I wanted to sincerely thank PPC Associates for running my post. Their blog is amazing and is part of my daily reading. Make sure to head on over there and bookmark their blog. If you're looking for an SEM agency, PPC Associates is one of the best so you will certainly want to reach out and schedule a consultation. Also, you may want to check out my other recent guest posts on the PPC Associates blog:
Image in this post © PPC Associates
Posted in: Search Engines | Tags: beta testing, ppc associates | Comments: Be the first person to comment!